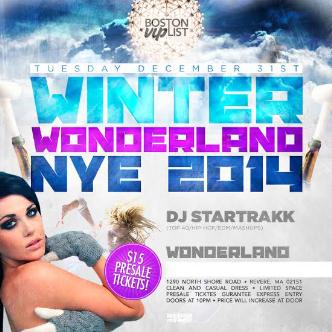 Venue:
When:
City:
Address:
WonderLand Ballroom
Tue Dec 31 2013 1000PM
Revere
1290 North Shore Rd
Early Bird: $15.00
This New Years Eve 2014 at Wonderland Ballroom
Boston VIP List Presents:
Winter Wonderland
This New Years be whisked away to the enchanting Wonderland!
Get warmed up with us because baby its cold outside!
Music By DJ STARTRAKK
Get Your Tickets HERE!
http://www.clubzone.com/c/70819/wonderland-ballroom-boston-new-years-eve
Party VIP Style
BostonVIPList@gmail.com
(617) 335-5582
Follow Us:
Instagram @BostonVIPList
Twitter @BostonVIPList
www.facebook.com/BostonVIPList
Wonderland | 1290 Northshore Road | Revere