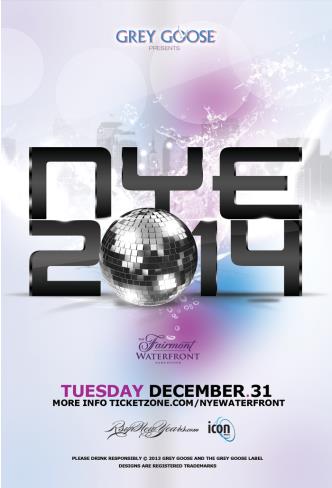 Venue:
When:
City:
Address:
Tue Dec 31 2013 900PM
Vancouver
900 Canada Place Way
PLATINUM VIP Section ( 10 PERSON) ON REQUEST ONLY: $1900.00
Grey Goose presents NYE 2014 Waterfront Gala Ball
Top Rated New Years Event by Clubzone.com 2013
NEW YEAR'S EVE 2014
Purchase your Fairmont Waterfront New Years Eve 2014 Celebration Tickets as soon as possible to guarantee your admission to the Vancouver's BIGGEST hotel party. Over 19 New Years Eve events we have sold out.
Video from New Years 2013 (copy & past the link)::: http://bit.ly/HB1aO1
Fairmont Waterfront:
The best part about spending New Years Eve at the luxurious Fairmont Hotel, youll be able to experience all of the best aspects of New Years Eve in Vancouverthe live count down, the champagne, the amazing vibeall while in the beautiful Fairmont. Join us in an upscale and mature atmosphere.
Party Type:
*Largest Hotel Party in Vancouver
*VIP sections
*Two Large Rooms
*Guest DJ from LA and 3 of Vancouver's top DJ's
*Midnight Balloon Drop & Live Countdown
*State of Art Sound and Lighting by Decibel System
*Photo Booth Hosted by Storybooth
Age
25 years old and older
Dress Code:
Chic and Sassy -Mandatory Gentleman Jacket or Suits.
(STRICT DRESS CODE -NO JEANS , T-SHIRTS OR CASUAL WEAR)
Music:
Main Room- DJ'S RYAN LIVE (Los Angeles, Jo Koy) & 151 spinning R&B, Rock, Top 40 & Old School
Lobby Lounge- DJ'S B-SIDE & EYE SPY mixing Classic House, Soul, R&B & EDM
Ticket Information:
Early Birds Sold Out
Warning: Price increase in affect
**More thereafter
Includes:Canapes & Food Stations, Complimentary Glass of Champagne to bring in 2014
Platinum VIP :(SOLD OUT)
Limited VIP Section 8 persons
-No Line up
-Two Bottles of Champagne
-Sectional seating
Platinum VIP sectional seating (SOLD OUT)
Limited VIP Section 8 persons
-No Line up
-Two Bottles of Champagne
-Sectional seating
-Tray of macaroons and cupcakes
-Canapes
Group rates/ Table service
info@rsvpnewyears.com/ 604 307-8593
Hotel Room Rates
Starting from $159
Please copy and paste the link http://bit.ly/17VOGdn
Last Updated on