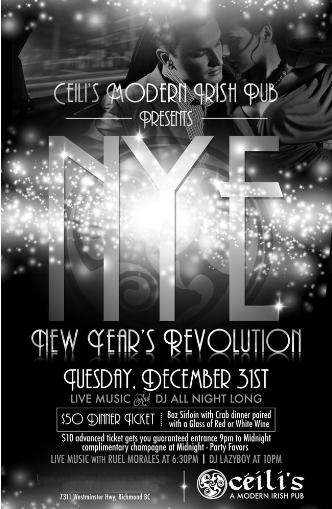 Venue:
When:
City:
Address:
Tue Dec 31 2013 500PM
Richmond
7311 Westminster Highway
Dinner Tickets – 6-7:30pm: $50.00
Late night tickets – after 10pm: $10.00
Join Ceilis Modern IrishPub for our 2014 NewYears Revolution Party! Since were evolving, we thoughtour parties shouldtoo. Ceilis invites you to be part of the revolution withlive music, moderndining options and plenty of drinks!
Doors 5pm

Ruel Morales at 6:30pm – DJ at 10pm
Complimentary midnight champagne toast
Dinner Tickets – $50 6-7:30pm (6, 6:30 7, 7:30seatings)
Late night tickets – $10 after 10pm
Menu: 10oz NYStriploin Steak and Crab, Herb Roasted Potatoes and Seasonal Vegetables. Servedwith Red or white wine.
Last Updated on