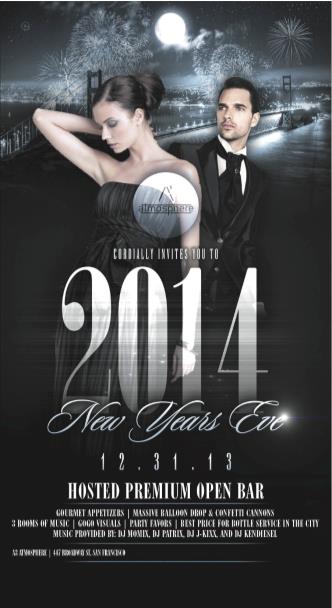 Venue:
When:
City:
Address:
$75 Hosted Premium Open Bar All Night: $75.00
VIP Bottle Service Package 4: $500.00
VIP Bottle Service Package 6: $1500.00
$85 HOSTED PREMIUM OPEN BAR ALL NIGHT: $85.00
Premium Hosted Open Bar All Night
Fully Staffed and Fully Stocked Bars
Beautiful Go Go visual entertainment
Huge Balloon Drop
Confetti Cannons
Laser/Light Show
Gourmet Appetizers
Party Favors & Giveaways
3 Rooms of Music
Music: Hip Hop, Top 40, Club Hits, Provided by:
Main Room:
DJ Momix
DJ Patrix
Lounge:
DJ J Kixx
DJ Kendiesel
ALL SALES FINAL
We have the most affordable bottle service packages in the city!!
Bottle Service Highly Recommended
We have a premium open bar for NYE as the regular ticket which varies in price depending on when you buy it… and we have bottle service available but the packages do not include open bar, however, there is an option to add the open bar wristband for $40 per wristband if anyone in your group wants one We make it more affordable for VIPs than the regular price of the open bar wristband.
TO AVOID ONLINE SERVICE CHARGES CONTACT KAREN@A3ATMOSPHERE.COM AND BOOK DIRECTLY!
VIP Package 1 – Lounge – ONLY 5 Available – $300 SOLD OUT
Package Includes: 4 Tickets, A VIP table in the lounge, Express VIP Entry, 1 Liter Bottle Of Premium Alcohol, Gourmet Hors Dourves, Gift Bags, & Party Favors, All taxes and gratuities

VIP Package 2 - Lounge ONLY 2 available – $420 SOLD OUT
Package Includes: 6 Tickets, Express VIP Entry, 1 Liter Bottle Of Premium Alcohol, 1 house champagne bottle, A slightly bigger VIP table than the regular table in the lounge, Gourmet Hors Dourves, Gift Bags, & Party Favors, All taxes and gratuities

VIP Package 3 – Lounge – ONLY 1 available – $900
Package Includes: 15 Tickets, Express VIP Entry, 3 one Liter Bottles Of Premium Alcohol, The biggest booth in the downstairs lounge, Gourmet Hors Dourves, Gift Bags, & Party Favors, All taxes and gratuities

VIP Package 4 – Front Room – ONLY 3 Available – $500
Package Includes: 6 Tickets, Express VIP Entry, 1 Liter Bottle Of Premium Alcohol, 1 house champagne bottle, A VIP table in the front room next to the DJ, Gourmet Hors Dourves, Gift Bags, & Party Favors, All taxes and gratuities

VIP Package 5 – Main Room -Only 4 available – $900 SOLD OUT
Package includes: 10 Tickets, A VIP table in the Main Room, Express VIP Entry, 3 one Liter Bottles Of Premium Alcohol, Gourmet Hors Dourves, Gift Bags, & Party Favors. All taxes and gratuities

VIP Package 6 -Main Room – ONLY 1 available – $1500
Package includes: 15 Tickets, A VIP booth in the main room overlooking the dance floor, Express VIP Entry, 5 one Liter Bottles Of Premium Alcohol, Gourmet Hors Dourves, Gift Bags, & Party Favors. All taxes and gratuities

VIP Package 7 – Main Room – Only 2 available- $2000
Package includes: 20 Tickets, The largest and most desired VIP booths in the Main Room, Express VIP Entry, 6 one Liter Bottles Of Premium Alcohol, one house champagne bottle, Gourmet Hors Dourves, Gift Bags, & Party Favors. All taxes and gratuities
ALL SALES FINAL
Last Updated on