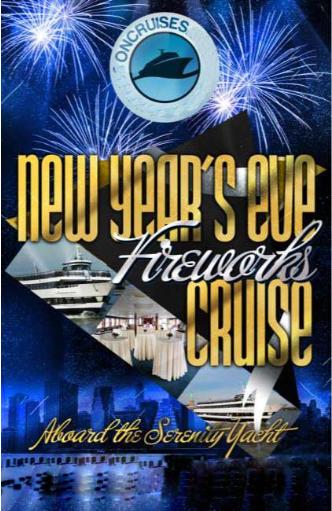 Venue:
When:
City:
Address:
General Admission: $155.00
Platinum VIP Private Table for Four: $740.00
Important: VIP Tickets Are Not Yet Available on this Site.
Believe it or not, it's time to think about New Year's Eve again. If you had a great experience during the last massive celebration, then why not think about how you can outdo yourself this time around. New York City was teeming with people when the big day rolled around, and according to reports this year's New Year's Eve celebration was one of the biggest yet. Well, prepare for New Year's Eve 2014 to be even bigger and better.
While nightclubs, lounges, and bars all across Manhattan open their doors for special ticketed events, chances are they'll be too crowded for you to actually enjoy yourself. That's why the Serenity Yacht is considered by many to be the quintessential New Year's Eve venue to celebrate. While you may get good views of the city skyline from a rooftop, nothing beats what the Serenity has to offer when it cruises around the city, not only giving you great views of Manhattan, but stellar ones of the landmarks located all around it. Featuring a live DJ to serve up all the sound, open bar for the adults, and a full dinner buffet to satisfy everyone's hunger. There's no shortage of entertainment found on board.
This family friends New Year's Eve cruise presented by NewYearsCruise is the perfect way for you and your close-knit group to welcome in the New Year. Be sure to get your tickets while they're available, because if audience response is anything like it was last year, they're sure to sell out in no time.
Boarding begins at 8:00pm, sails at 9:00pm, returns at 1:00am
General Admission Includes: 
Welcome to New Year's Eve Family Fireworks Cruise Aboard The Serenity Yacht. All guests will receive the following amenities:
4 Hours of Open Bar (9:00pm-1:00am)
Full Dinner Buffet
Festive NYE Party Favors
Dance the Night Away to Sounds of a Live World Renowned DJ
This is a standing room only ticket
Price is Per Person
***TICKET PICK-UP INSTRUCTIONS***
YOU MUST PICK UP YOUR TICKETS PRIOR TO THE EVENT.
Please bring your print-out confirmation, credit card used to purchase ticket(s), and a government issued ID to pick up your tickets at our box office. If there is a designated person picking up the tickets, person's name must be submitted online prior to pick-up and they must present valid identification.
——————————————————————–
WeSell.com Box Office
138 West 31st Street
Between 6th & 7th Ave
New York, NY 10001
——————————————————————–
During these times:
Saturday, Dec 28th – [930AM-7PM]
Sunday, Dec 29th- [930AM-7PM]
Monday, Dec 30th- [930AM-9PM]
Tuesday, Dec 31st- [830AM-2PM]