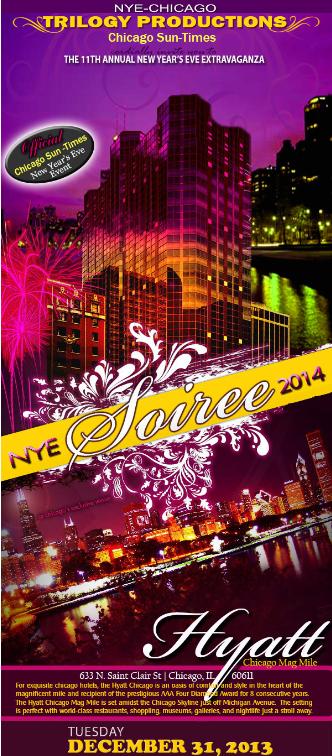 Venue:
When:
City:
Address:
Tue Dec 31 2013 830PM
Chicago
633 N Saint Clair Street
General Admission: $135.00
NYE-Chicago presents
New Year's Eve Soiree 2014 at Hyatt Chicago Mag Mile

Trilogy Productions creates a new tradition by celebrating in style on Top of Chicago's Famed Magnificent Mile.
$25 Million Dollar Renovation! – Located in the heart of downtown Chicago, The Hyatt Chicago Magnificent Mile has just completed a $25 Million Dollar Renovation! The Hyatt Chicago Magnificent Mile is an oasis of comfort and style in the heart of the Magnificent Mile and recipient of the prestigious AAA Four Diamond Award for 8 consecutive years. The Hyatt Chicago Magnificent Mile is set amidst Chicago's premier avenue, Michigan Avenue. The setting is perfect, with world-class restaurants, shopping, museums, galleries, and nightlife just a stroll away.
Join us for one of the most memorable occasions in the city, ringing in the New Year 2014 at the Hyatt Chicago Magnificent Mile located at 633 N Saint Clair St in Chicago.
Amenities
Party package includes:
4 HOUR TOP SHELF HOSTED COCKTAIL RECEPTION
(Bombay Sapphire, Crown Royal, Black Label, Martinis, + More)
-A Buffet of Appetizers
Elegant Hot Hors D'oeuvres
Elegant Cold Hors D'oeuvres
Assortment of Specialty Items
- Champagne
- Fully Staffed Bartenders and Servers for Your Needs (No Lines!!!)
- Video Countdown
- Beautiful Ballrooms
- Party Favors
- Photo Shoot
- Live Video Mixing
- Coat Check
- Phenomenal View of Chicago from Rooms
Celebrity DJs
State of the Art Intelligent Lighting & Sound System
Elegant Chic in Ballroom
Live Video Mixing & Confetti Storm
Multiple Ballrooms of Entertainment
Beautiful Decorations
Party Favors and Noisemakers
Coat Check

And to top it off:
Monday, December 30th
Complimentary Pre NYE Party @ SOUND BAR
w/ Hosted Cocktail Reception 9:30pm – 11pm
Win a VIP TABLE SERVICE with a Private Table + Bottle of Champagne at our Pre Party on our dime! Winner Announced December 27th, 2013. w/ Subject: "HYATT PRE PARTY" to sign up & LIKE our Facebook page.
Get A Bottle of Champagne On Us! Have a group of 15+ people & celebrating your B-Day, Bachelorette Party, Bachelor Party, Graduation, or any other special occasion? Celebrate with us and we'll set you and your party with a 1.5 hour hosted cocktail reception and a bottle of champagne on us. Just send us an e-mail with your name and how many guests there are in your party and we'll take care of the rest. Limited availability.
Complimentary Post NYE Party @ HARD ROCK CAFE
Wristband for the most exclusive venue in Chicago included with your ticket! The party continues until 4am. Capacity pending. Plan accordingly.
Enjoy Pre & Post Parties At Chicago's Biggest & Hottest Nightclubs.
3 Parties / 3 Venues / All Inclusive in 1 NYE Ticket
Music Entertainment
Multiple Rooms of Musical Entertainment:
Mainstream:
DJ Krush
DJ Krush was raised in Chicago, IL. At the age of thirteen, an age where most of us are still playing with toys, DJ Krush was already practicing his skills on the turntables. The underage teen would sneak in to clubs where he observed and gained knowledge of rocking a crowd. His inspirations came from listening to hip hop radio stations. He also listened to a diversity of music from the 80′s, Rock, Reggae, Hip-Hop, House, and R&B. The combination of his versatile style and unique skills makes him not only a highly recognized name but also a sought-after name in the industry. His expertise has already enabled him to perform all over the nation and the world. From Miami to Mumbai, Aruba to Chicago, Puerto Rico to Toronto. He can rock any crowd in the world with his wide selection in music.
Old School / Retro:
DJ Onit
DJ Onit has established himself among the top leading music entertainers of Chicago. He is one of the premiere turntablists and perhaps the most recognized and respected hip-hop artist to date. There was an era of djs before DJ Onit came about and then came the era transformed by him.
Don't miss the finest DJs in Chicago spinning a great mix of Top 40, Hip Hop, House, 80s, and the Latest Hits.
Live Music Lounge:
HOT SAUCE COMMITTEE
The Hot Sauce Committee combines 90s Hip Hop, with guitars and club beats for a high-energy hot sauce experience. With Serv on the lead vocals, Bender on guitar, Nick on Bass, Danger-Russ on Drums and featuring DJ KevinPhoenix as well as DJ Vivid; these boys bring a crazy fun show to any stage they are on. This is the band that gives you everything you want, but is nothing you would ever expect. They are real rockstars who have teamed up to give you the arena-sized, over-the-top concert experience! The band members of Hot Sauce Committeei astound audiences night after night by performing multi-platinum rock n' roll hits. They cover artists and musical genres that other bands overlook, as well as, take on current chart topping hits from today's top selling pop artists! Every show the band puts on is a spectacular balance of rock music and revitalized pop classics that we all have grown to know and love.
This event also includes:
Beautiful Decorations
Noisemakers and Party Favors
Bubble Makers
Balloons and Confetti
Live Video Mixing
State of the Art Sound System
Spectacular Lighting System
Take An Elevator Home
The Hyatt Chicago Magnificent Mile
633 N Saint Clair St – Chicago, IL
Only $159/night
Event Begins @ 9:00pm
This Event is 21+
Dress Code: Formal Attire
Name will be checked at door.
Proper Identification Required.
Last Updated on