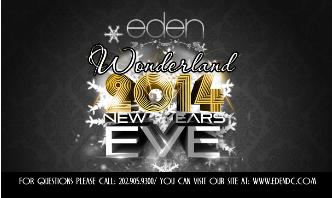 Venue:
When:
City:
Address:
General Admission- 2 Hour Open Bar & Buffet: $50.00
Description
This New Years be whisked away to the enchantingwonderland of Eden. Located in the heart of downtown DC Eden is a haven thatwill leave you bedazzled with its four distinct floors of music, entertainment,and wonder that will satisfy any palate. 8 DJ's , 8 Bar's, 8 Hour of Partying.
THE GREEN ROOM (1st Floor)
Truly an indoor outdoor experience find yourself surrounded by lush greenery,reclaim wood and vibrant flora. In addition to its green atmosphere the GreenRoom has state of the art amenities including a forty foot motion interactivewall and touch interactive bar.
THE CAVE (2nd Floor)
Dark, mysterious, and sensual Edens second floor envelopes you in the movementof the music. Lose yourself to tantalizing beats of the DJ or watch one of theeight mirror embedded televisions.
BRIMSTONE (3rd Floor)
A class of its own Brimstone is Edens premier floor. Unique to the typicalnight club experience Brimstone features hand crafted cocktails, house infusedvodkas, and unparalleled personal service.
THE GARDEN OF EDEN (Rooftop)
Gaze at the nights sky (jacket free) on the heated rooftop. Truly an out of DCexperience the Garden of Eden removes you from dreary winter into a richtropical setting of lights, greenery, and state of the art sound.
New Years Eve Guests Enjoy:
*2 Hour Selective Premium Open Bar 8:00pm 10:00pm
* Catered Buffet
*Festive New Years Eve Party Favors
*Live DJ Performances
*Live Feed of Times Square New York Ball Drop
*Live New Years Countdown
*Balloon Drop at Midnight
MusicCrowd
The Green Room- Hip Hop, Top 40 & Mash-Ups
The Cave- Hip Hop, Top 40 & Mash-Ups
Brimstone- House & Top 40
The Garden of Eden- House & Top 40
Age21+
Last Updated on