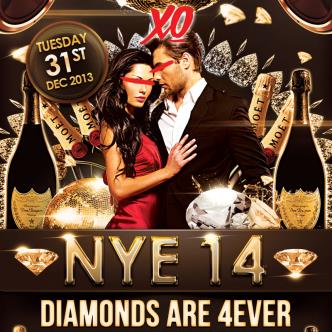 Venue:
When:
City:
Address:
Tue Dec 31 2013 900PM
Edmonton
10004 Jasper Ave
Second 100 Single Tickets (Gentlemen): $40.00
Second 100 Single Tickets (Ladies): $20.00
BLACK Package: $600.00
RED Package: $1000.00
GOLD Package: $1625.00
PLATINUM Package: $1875.00
LUXURY VVIP CABANA: $3750.00
Tuesday December 31st
We invite you to celebrate the arrival of 2014 at Club XO in exquisite style and sophistication.
***live countdown at midnight and $1000 cash prize give away
*** Featuring our resident DJs Dj Mikey Wong Tang Twinz Seelo Mondo playing a mixed format set. Gourmet Hors Doeuvres and a Midnight Champagne Toast.
–SOLD OUT–EARLY BIRD Tickets first 100 Only: $30 ( $15 for ladies -Limited Amount Available)- SOLD OUT!
next 100: $40 ( $20 for ladies)
next 100: $50 ( $25 for ladies) more at the door
Booth Packages Available & Strongly Recommended- RSVP OR BOTTLE SERVICE INFO AT: call 587.991.9696 or email bookings@clubxo.ca
Doors Open at 9pm
++— PRICES INCLUDE GRATUITY AND GST —++
————- Table Pricing ————-
$3750* LUXURY VVIP CABANA
Tables Available: 1 | Bottle Min: 6 | # of guests: 20
Includes 4 Bottles of Belvedere, 2 Bottles of Dom Perignon, 4 CANS of RED BULL, SNACKS, 20 admission TICKETS
$1875* PLATINUM Package
Tables Available: 7 | Bottle Min: 5 | # of guests: 15
Includes 4 Bottles of Belvedere, 1 Bottle of Dom Perignon, 4 CANS of RED BULL, SNACKS,15 admission TICKETS
$1625* GOLD Package
Tables Available: 6 | Bottle Min: 4 | # of guests: 10
Includes 3 Bottles of Belvedere, 1 Bottle of Mot & Chandon, 4 CANS of RED BULL, SNACKS, 10 admission TICKETS
$1000* RED Package
Tables Available: 4 | Bottle Min: 3 | # of guests: 5
Includes 2 Bottles of Belvedere, 1 Bottle of Mot & Chandon, 4 CANS of RED BULL, SNACKS, 5 admission TICKETS
$600* BLACK Package
Tables Available: 4 | Bottle Min: 2 | # of guests:10
Includes 2 Bottle of Belvedere, 4 cans of Red Bull, Snacks,10 ADMISSION TICKETS
*note: all package purchases include gst and gratuity charges
Last Updated on