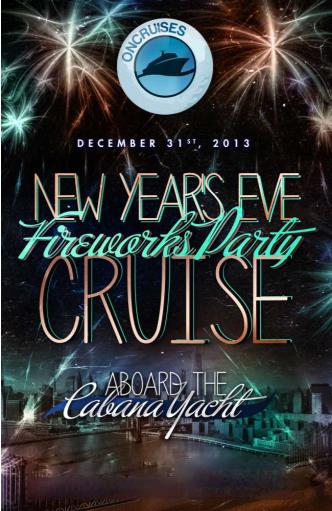 Venue:
When:
City:
Address:
Cabana Yacht – Skyport Marina
Tue Dec 31 2013 900PM
New York
East 23rd Street and FDR Drive
General Admission: $159.00
New Year's Eve is widely regarded as the greatest night of the year for celebrations and this coming December 31st will be no exception. Whether 2013 was the greatest year of your life or one in which you struggled, come join us for what can only be described as the best possible way both to celebrate the past 12 months as well as cheer on the next 12 to come. Our New Year's Eve Fireworks Party Cruise aboard the Cabana Yacht will be a blast! Get your tickets now to a trip on one of the most stylish yachts in all of New York City as we sail past all the most famous landmarks before catching a front row seat to one of the best fireworks shows in the entire country.
Presented by NewYearsCruise, this momentous night on the Cabana Yacht will come with a fully stocked open bar, a full dinner buffet, and a live DJ to keep the music going all night. You'll also be treated to a trip around the waterways of the Big Apple that you'll never forget. Take in one of the most famous skylines in the world from a completely different vantage as you toast with friends and dance the night away. We promise you'll have the time of your life on our New Year's Eve Fireworks Party Cruise aboard the Cabana Yacht, so get your tickets today and secure your place for what we guarantee will be a celebration you'll remember forever.
Boarding: 9:00pm
Departing: 9:30pm
Returning: 1:00am
Ticket Details
Admission for one aboard the Cabana Yacht
3 Hours of Open Bar ( 9:30pm – 12:30am)
Full Dinner Buffet
Dance the Night Away to Sounds of a Live World Renowned DJ