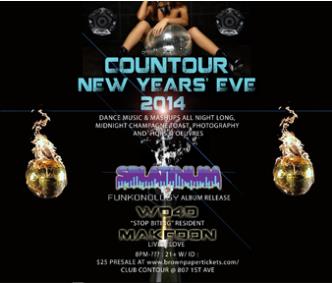 Venue:
When:
City:
Address:
Tue Dec 31 2013 800PM
Seattle
807 1st Avenue
Regular: $25.00
COUNTDOWN at CONTOUR 2014
Seattle's sexiest funkiest beats, drinks and people are ringing in 2014 at Contour! Ticket price includes champagne toast at midnight and after hours entertainment to keep you moving 'til morning.
SPLATINUM is a collaborative musical output that spans genres with the common element of devastating low-end threads through every composition. Their new album the Funkonology experience unlocks hidden psychic potential through patented low frequency wave oscillation technology. The process utilizes the power of bio-medical quantum mechanics and life affirming funk energy to blast away bad vibes.
WD4D blasts the hinges off genre definitions with his inventive and eclectic style. Not only a knowledgeable producer but an engaging performer as well, WD4D was named champion of Seattle's 2010 Battle of the Mega-Mixes.
MAKEDON is the man who pioneered the horny Balkan vibe, dubbed Gypsoteka, into the electronic music community in the Northwest. By representing LiveNLove and rocking the charts on Beatport, this performance will be starting the party off with some heat.
Tickets will be sold at the door on NYE for more, so get yours presale!
21+ID
*If you want to reserve a VIP booth or have questions about the event, then email us at questions@clubcontour.com
Last Updated on