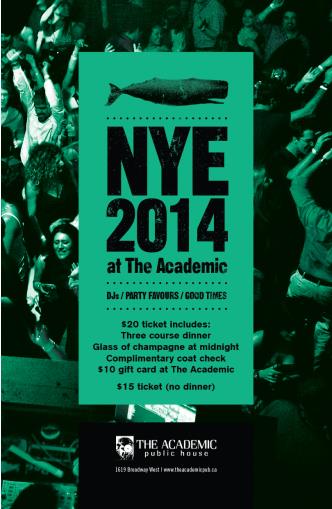 Venue:
When:
City:
Address:
Tue Dec 31 2013 800PM
Vancouver
1619 West Broadway
No Dinner: $15.00
NYE 2014 at the Academic
xxxxxxxxxxxxxxxxxTHIS IS THE ENDxxxxxxxxxxxxxxxxxxx
All good things must come to an end, but new even better things always begin.
Join us for NYE 2K14 at The Academic Public House.
We will be celebrating with STYLE.
On the decks we have…
******************************************************************
DJ DEKUTRI
https://soundcloud.com/josh-brian-palfreyman
DJ THREESTAXX
https://soundcloud.com/djthreestaxx
*******************************************************************
9PM-3AM
TICKETS available ONLINE at
TicketZone.com
Regular $15.00
Tickets INCLUDE
Glass of Champagne at Midnight
Complimentary coat check
$10.00 Gift Card to Academic
*******************************************************************
Last Updated on