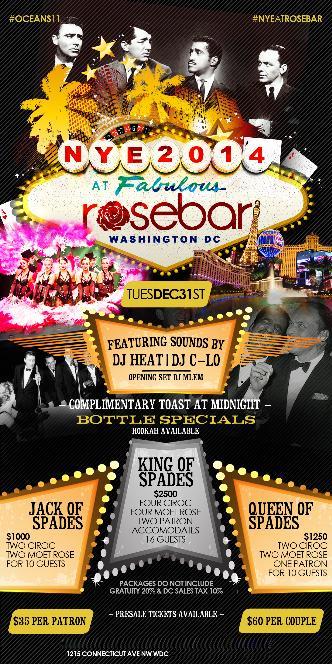 Venue:
When:
City:
Address:
Regular Admission (1) – Single: $35.00
General Admission (2) – Couple: $65.00
Join us Tuesday, December 31st as Rosebar Lounge presents #NYEatRosebar #Oceans11. Bringing Las Vegas to DC on New Years Eve feat DJ Heat, playing Hip-Hop & Top 40 in the MAIN CABIN AND DJ C-Lo playing EDM & House on the DECK. Hookah Available along w/ a complimentary Champagne toast at midnight.
When: Tuesday Dec 31, 2013
Where: Rosebar, 1215 Connecticut Ave NW WDC 20005
Time: 9-4am
Attire: Dress Code Strictly Enforced, Suite & Tie Recommended
Age: 21+ w/ Valid ID
Advanced Ticket Pricing: General Admission $35 , Couples Admission $65 (Ticket Prices Will Increase)
VIP Bottle Packages Below
1st FLOOR
—————
Court Jester : 1 Ciroc (Flavored), 1 Rosebar Sparkling Rose w/ 4 guests. $500*
MAIN FLOOR & DECK
—————————–
Jack of Spades: 2 Ciroc (Flavored) + 2 Moet Rose w/ 10 guests $1000*
Queen of Spades: 2 Ciroc (Flavored) + 2 Moet Rose + 1 Patron Silver w/ 10 guests $1250*
King of Spades: 4 Ciroc (Flavored) + 4 Moet Rose + 2 Patron Silver w/ 16 guests $2500*
*Not Including 20% Gratuity and 10% DC Sales Tax
Parking: Valet Parking is available
Public Transportation: Farragut North, Red Line & Dupont Circle, Red Line
Miscellaneous: Complimentary Champagne Toast at Midnight
Last Updated on