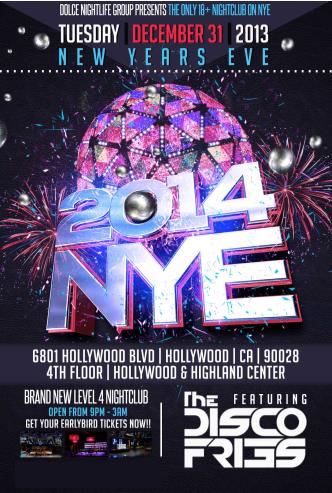 Venue:
When:
City:
Address:
Tue Dec 31 2013 900PM
Hollywood
6801 Hollywood Blvd, #433
Regular: $50.00
The New Ohm Nightclub along with KIIS FM Club DV8 and Dolce Nightlife bring you
====> NYE 2014 CLUB DV8 <====
~~~~~ with THE DISCO FRIES LIVE ~~~~~
The ONLY 18+ NYE party in So'Cal! Come experience the closest thing to Las Vegas that L.A. has ever seen. OHM nightclub features 150,000 watts of sound with 2 luxurious rooms!
OHM Nightclub -
6801 Hollywood Blvd (4th Level) Highlands Complex
- 2 Rooms of Music
- 4 Fully Stocked Bars
- 4 huge Reclining LED Walls on the Ceiling
- Capacity of over 1500+
- Beautiful outdoor Patio overlooking entire Hollywood Blvd.
THE DISCO FRIES have gone from making tunes in their dorm room while guzzling cheap vodka to inducing mass ruckus at clubs across the globe with signature tracks which have been co-signed by some of the biggest names in EDM like Tiesto, Hardwell, Kaskade, Steve Aoki, and Armand Van Helden.
Limited amount of Pre-Sale tickets available for the early bird price of $40 (Price Increase After 12/29) Bottle Service Avail.

Last Updated on