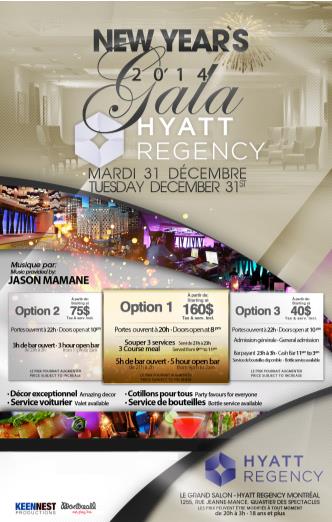 Venue:
When:
City:
Address:
Tue Dec 31 2013 800PM
Montreal
1255 Jeanne-Mance Street
NYE 2014 Gala @ Hyatt Regency MontralVenue

Hyatt Regency Downtown Montreal
1255, Jeanne-Mance Street (Between St-Catherine and Rene-Levesque)
Montreal QC
Date/Time

Tuesday, December 31, 2013
8:00 PM – 3:00 AM
Ring in this New Years with style and sophistication. No stress. The staff at the Hyatt Regency Hotel will tend to all your needs with the highest level of service and quality. Expect to enjoy an unparalleled dining experience paired with an open bar, feast your eyes on the recently constructed Grand Salon reception hall and take advantage of our superior discounts on rooms, exclusive for our Gala Guests only! If the dinner and open bar options don't appeal to you, select a ticket option that suits your needs. Instead, purchase a general admission ticket and enjoy our varied drink selection at our cash bar or splurge with our bottle service or VIP packages! Champagne toast for the NYE 2014 countdown is a given. Valet service will also be available throughout the evening for your convenience.
NYE 2014 GALA also offers:
Option 1 (Starting at $160 tip & tax incl) - SOLD OUT:
- 3 course meal from 9pm to 11pm
- 5 Hour Open Bar from 9pm to 2am
- 2 Bottles of winer per table
- Live DJ set
- Unlimited local beers
- Unlimited drinks
- Doors open at 8pm

Option 2 (Starting at $75 tip & tax incl.) - SOLD OUT:
- 3 Hour Open Bar from 11pm to 2am
- Unlimited local beers
- Unlimited drinks
- Doors open at 10pm

Option 3 (Starting at $40 tax incl.) - SOLD OUT:
- General Admission
- Bottle Service Available
- Cash Bar from 11:00pm to 3:00am
- Doors open at 10pm!
Hyatt Regency hotel is located in the center of downtown Montreal action Between St-Catherine and Rene-Levesque on Jeanne-Mance street!!
- Unbeatable ambiance!
- Amazing decor
- VIP tables and bottle service available
- Doors open at 8pm
- Valet service available (not included in the ticket)
- Party favors for everyone
- Formal Attire Required
Dress Code
Formal Attire: Suit and tie and dresses! Dress to impress! No runners, no jerseys, no baggy pants.
Type of music
Mix of Top 40, House, R&B and the best of Hits.
Type of crowd
Mixed crowd with an age range of 18-35 years old.
We strongly recommend that you pick up the tickets as soon as you get to Montreal.

Tickets Purchased on ClubZone The buyer has the option to pick up the tickets. To pick up your tickets you need:
- Your e-mailed receipt
- A picture ID (Driving License, etc.)
- The credit card used for the purchase

Where to pick-up your tickets (If you chose that option)?
Tickets purchased online through Clubzone.Com can be picked up at our seasonal office in Downtown Montreal:

Keennest Productions Inc.
1396 St-Catherine West (Corner Bishop)
Suite 409,
Montreal, Quebec, Canada
H3G-1P9
When?
The office will be open on the following dates and times
December 29th – 30th from 12pm-8pm.
December 31st from 10am-5pm.

Important notice regarding ticket pick ups
Tickets will not be available to pick up at the location above if you chose "shipping" as an option upon checkout. Any tickets which are not picked up in advance will automatically be forwarded to the will call list on the night of the event. You must bring your Photo ID, purchase receipt, and Credit Card used to make the purchase.

*****TICKETS ARE NON-REFUNDABLE*****

HAPPY HOLIDAYS!!!
Last Updated on