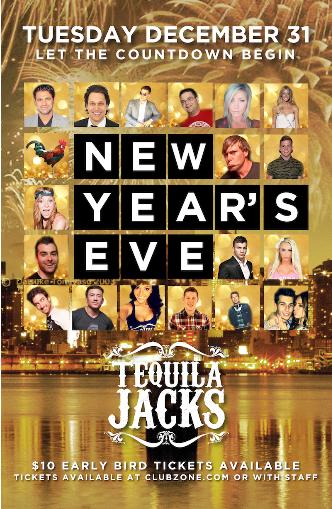 Venue:
When:
City:
Address:
Tue Dec 31 2013 1000PM
Ottawa
104 Clarence Sreet
Later Planner: $20.00
NEW YEARS EVE 2014 @ TEQUILA JACKS

Tuesday December 31st 2013
Doors open at 10pm
Early Bird Tickets Starting at $10 **SOLD OUT **
Tickets are NOW $20.00
Get them ASAP
We have the right to refuse any patron due to not meeting dress code
For bottle service and booth reservation please inquire
ALL BOOTHS ARE SOLD OUT !!!
STANDING ROOM FOR BOTTLE SERVICE STILL AVAILABLE
BEHIND MAIN BAR (1 SPOT REMAINING) YOU CAN CHOOSE FROM THE PACKAGES BELOW
VIP Bar Package 1 $220 ($35 tip) = $255 Total
26 of Absolute, Rum, Rye,Tequila or Gin (1)
Mix and 2 RockStar EnergyDrinks
NYE Early Bird Tickets (4)
Main Bar (Standing Room)& VIP NYE Party Packages
VIP Bar Package 2 280$ (40 tip) = $320 Total
26 of Absolute, Rum, Rye,Tequila or Gin (1)
Mix and 2 RockStar EnergyDrinks
NYE Early Bird Tickets (4)
Main Bar (Standing Room)& VIP NYE Party Packages
Bottle of Champagne
Ultra Bar Package 1 280$ (40 tip) = $320 Total
40 of Absolute, Rum, Rye,Tequila or Gin (1)
Mix and 2 RockStar EnergyDrinks
NYE Early Bird Tickets (4)
Main Bar (Standing Room)& VIP NYE Party Packages
Ultra Bar Package 2 340$ ($50 tip) = $390 Total
40 of Absolute, Rum, Rye,Tequila or Gin (1)
Mix and 2 RockStar EnergyDrinks
NYE Early Bird Tickets (4)
Main Bar (Standing Room)& VIP NYE Party Packages
Bottle of Champagne
Additional Bottle List
26 of Absolute, Rum, Gin, Rye 160$
40 of Absolute, Rum, Gin, Rye 220$
Grey Goose 200$
Champagne Henkell 60$
Champagne Moet 120$
**For reservations on STANDING ROOM behind main bar please contact Ryan Pratt 613-862-7622
Last Updated on