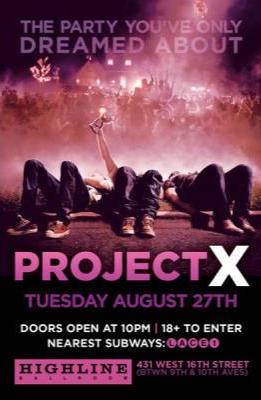 Venue:
When:
City:
Address:
Sun Aug 24 2014 1000PM
New York
Only Ticket Holders will get Address location
General Admission: $10.00
All Access: $100.00
Highline Ballroom is a huge music venue that embodies New York City nightlife. But on Tuesday, were bringing you a party there thats a little more raunchy than its used to the party youve only dreamed out the all famous Project X party!
This party isnt just big. This party isnt just crazy. This party is the end of the world. We guarantee a night of chaos with the drinks flowing and the music booming! Itll definitely be one to remember (if you can remember anything the next day at all). Come see the biggest nightclub in the Meatpacking District come to full life. This IS NYC Nightlife at its best!!!
Last Updated on