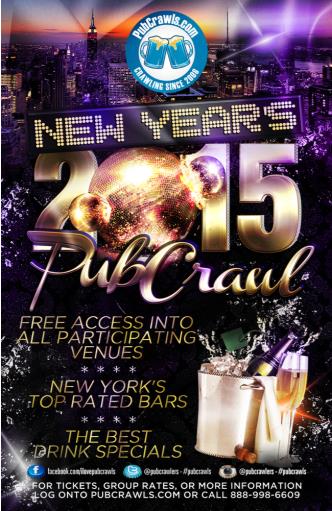 Venue:
When:
City:
Address:
WED 12/31 :: Registration at Bar None (East Village): $20.15
As January approaches, so does one of the most anticipated nights of the year – New Year's Eve! New York City is one of the most popular destinations in the world. Nothing compares to the experiences that the sights, sounds and entertainment that NYC provides. But rather than sticking to one venue on a night that truly gives you the opportunity to make memories that last a lifetime, why not spice things up by visiting some of the best venues in the Big Apple? The producers of the world's largest Pub Crawl, PubCrawls.com, are hosting yet another popular event that will feature the best nightclubs and bars that New York City has to offer, the official NYC New Year's Eve 2015 All Access Pub Crawl Pass!
On Wednesday December 31st, Pub Crawl Pass ticket holders will be able to take advantage of multiple venues offering free admission and drink specials all night long. It's a great package for ringing in the New Year in one of the great cities in America. You may think that you'll have to spend a fortune to have a good time on NYE think again! We've put together this just for affordability and variety. Make sure to have this great variety during this New Year's Eve and spend the occasion with close friends and family. When the clock strikes midnight, it doesn't mean that the party's over. It means, that the party has just begun.
For tickets and more information, please visit PubCrawls.com or call 888-998-6609
Last Updated on