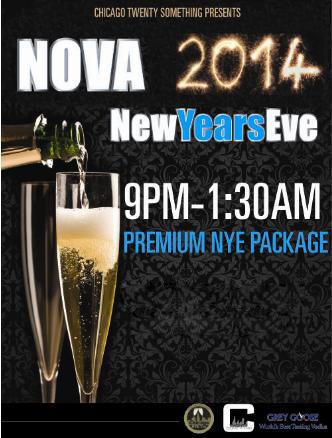 Venue:
When:
City:
Address:
Super Early Bird Discounted Ticket: $150.00
**If you purchase your ticket here you will receive a scannable ticket via email the week of the event. Please note you must bring this ticket with you to enter**
Nova NYE – Chicago?s #1 New Years Party!
Tickets Include:
? 9pm-1:30am Premium NYE Package
? Plenty of bars and servers (NO long wait for drinks)
? Champagne Greeting (everyone handed a glass of champagne upon entry)
? Champagne Toast at Midnight
? Small Bite Buffet
? Noisemakers & Party Favors provided
?10 Different DJs spinning Top 40 Mash Ups & EDM
? Party until 4am!
DJs Spinning Mash Up, Top 40, EDM, House & Techno* (subject to change):
*Konstant
*DJ Fireball
*DJ Applepeel
*Noisy Neighbor
*DJ Tronnick
*DJ Rochford
*Kazmeer
*DJ Noah Saltz
*DJ Sensei Shunn
*Dessert First
VIP Tables
? If you purchase a table it is guaranteed yours from 9pm-1:30am
? Two or three tables can be combined to make one large table. For example if you buy two "VIP Tables for 6 in The Orange Room w/ 1bottle of Grey Goose" we will make it one table for 12 people with two bottles of Grey Goose
? At 1:30am you may need to give up your table should it be purchased by another customer. But, they will do their best avoid moving tables.
? Tables do NOT include tickets! All guests must purchase a ticket.
? Gratuity is not included in the table price
Included Pre & Post Parties:
? A private hosted cocktail reception at Bull & Bear from 10pm-11pm on Friday, December 27th
? A private hosted cocktail reception at STATE from 10pm-11pm on Saturday, December 28th
? A private hosted cocktail reception at STATE from 10pm-11pm on Monday, December 30th
? A private hosted brunch buffet at Barn & Company from 11am-1pm on Wednesday, January 1st
FAQ:
? Yes, tickets will Sell Out!
? Yes, ticket prices will increase as more are sold?BUY NOW to lock in the lowest price!
? Yes, you can sell your tickets to someone else if you have a change of plans
? Tickets will be sent via email and will have a unique scannable barcode
? Doors will Open at 8:30 pm
? You must be 21+ with ID to enter
? NO refunds will be given!
The Venue:
? NOVA has rented out Soundbar for the night and we will be closed to the public.
? NOVA is by far the best New Years Eve venue in Chicago! With room for 1200 guests, Two floors, Seven Rooms, Eight Bars, 50 VIP Tables, The Best Sound System Money Can Buy & State of the art lighting. No other venue holds a candle.
? Check out the floor plan here
? NOVA is located at 226 W Ontario in the heart of River North
Pics From Last Year:
? You can check out 2 sets of pics from NOVA NYE 2012 Here: Set I & Set II
Looking for a place to stay? We have discounted rooms available for you! Use the links below to receive the discounted room pricing!
Mart Plaza- $119 Book Your Room HERE! http://www.ihg.com/holidayinn/hotels/us/en/chicago/chipl/hoteldetail?qAdlt=1&qChld=0&qRms=1&qIta=99502222&qGrpCd=UN1&qPSt=0&qSmP=3&qWch=0&qSHp=1&qBrs=6c.hi.ex.rs.ic.cp.in.sb.cw.cv&qSrt=BRAND_SORT&qRpp=25&qRRSrt=rt&qFRA=1&srb_u=1&icdv=99502222
Sorry – No Refunds