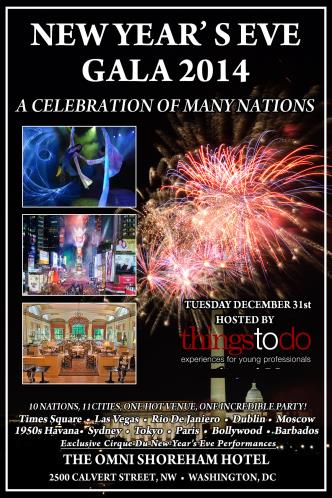 Venue:
When:
City:
Address:
Tue Dec 31 2013 900PM
Washington
2500 Calvert Street Northwest
Admission at 9 pm: $182.00
Admission at 10:30 pm: $135.00
NEW YEARS EVE INTERNATIONAL GALA: A Cirque du 2014 Celebration of Many Nations
Tuesday, December 31st 9 PM to 2 AM
THOUSANDS ATTEND EVERY YEAR AND THIS YEAR WILL BE NO EXCEPTION!
10 INTERNATIONAL THEMED CELEBRATIONS ~ 7 SEPARATE PARTY ROOMS including 5 HUGE BALLROOMS ~ ONE OF D.C.s MOST LUXURIOUS LOCATIONS ~ EXCLUSIVE CIRQUE NEW YEARS EVE PERFORMANCES ~ FULLY STOCKED OPEN BAR ~ MIDNIGHT CHAMPAGNE TOAST ~ HUGE MIDNIGHT BALLOON DROP ~ MULTIPLE LIVE BANDS ~ D.C.'S BEST DJS ~ WASHINGTONS 1st EVER NY EVE TIME MACHINE ~ KARAOKE ~ MOCK CASINO GAMBLING ~ STROLLING ENTERTAINERS ~ A TIME MACHINE ~ PARTY FAVORS ~ CARICATURIST DRAWINGS ~ INCREDIBLE HOTEL ROOM RATES ~ WHITE GLOVE SERVICE ~ VIP OPTIONS ~ MANY BARS AND STATIONS TO PREVENT LONG LINES ~ A SELL OUT EVERY YEAR ~ AND MUCH MORE!
Featuring
- An exclusive International Cirque Du 2014 Performance (Aerial and Ground) throughout the Party
- The First Event New Year's Eve International Time Machine
- Starring: One of Washington's Favorite Live Bands – OYNX
- The DJ talents of Geometrix, DJ Pumpkin, and DJ X-TAC
- Around the World Entertainment and themes in multiple Large Ballrooms
- Dance Lessons, Parades, Magic, Karaoke, Live Irish Band,
and much more! (Read On)
When World Leaders, Celebrities and Corporate Titans visit Washington, D.C. where do they stay, dine, dance and want to be seen?
When FDR wanted a place to host his first inaugural ball, where did he go?
When the Beatles first hit America in 1964 and arrived in DC, where did they stay?
When Bill Clinton wanted to play his saxophone at his Inaugural Ball, where did he go?
THE LUXURIOUS OMNI SHOREHAM HOTEL!
Since 2011, thousands of TTD members each year have celebrated an exciting party at this majestic venuehome of major Inaugural Balls and international formals and functions since its inceptionguaranteed to provide a night you will never forget! We are once again returning due to their excellent reputation, fast service on keeping all food and bar lines short, and the amazing reviews and response we have received after each Gala.
Tonight, as we ring in 2014, we invite you take a journey around the world without ever leaving Washingtons royal and historic hotel! Tonight, you will circle the globe and visit many continents as you make your way from one huge grand ballroom to the next.
Youll have your choice of how and where you want to celebrate New Year's Eve. Do you want the high-energy excitement of New York City and Las Vegas? No problem. Prefer recreating a Bastille Day Celebration combined with a 21st Century Euro scene? We bring the Paris connection to you. Want to dance side by side with a 10 foot tall Father Time? Only Here and Only Tonight! Breaking it down with star DJ Geometrix or Onyx? Only in our USA Celebration Rooms! Want to celebrate Carnival in a South American fashion? Join the midnight parade with live dancers and DJ Pumpkin. Or how about an international time machine room with DJ X Tac, where each hour we go through history from Ballroom, to Swing to the 70s, 80s, 90s and finally a hot modern 21st Century nightclub! What about just kicking it in an Irish Pub? We have one of the greatest Irish Bands to keep you singing it all night! PLUS, as a special bonus like nowhere else: look up to the sky as we bring you internationally famed Cirque performers for a special Cirque Du 2014 celebration . and much much more! (Plus, be on the lookout for President Obama himself (top dead ringer impersonator of course)!

Experience:
THE MAGIC OF TIMES SQUARE, NEW YORK
THE CIRQUE WONDERS OF THE OLD AND NEW WORLD
THE HIGH ENERGY OF PARIS HOTTEST CLUBS
THE FEVER OF LAS VEGAS
THE CARNIVAL CELEBRATION OF THE SOUTH AMERICAN NATIONS
THE MAJESTY OF SYDNEY, AUSTRALIA
THE SALSA FIESTA OF HAVANA
THE SPIRIT OF DUBLIN
THE TANGO OF BUENOS AIRES
THE FAIRYTALE OF 18th CENTURY VIENNA
THE SINS OF PROHIBITION ERA CHICAGO
THE ECSTASY OF BOLLYWOOD
THE STIMULATION OF THE CARIBBEAN
THE CHARM OF TOKYO
… and a Trip THROUGHOUT TIME
THE PARTY:
SEVEN ROOMS TEN NATIONS TEN UNIQUE INTERNATIONAL CELEBRATIONS
1) THE AMERICAN EXPERIENCE TIMES SQUARE (New York City) – STARRING DJ GEOMETRIX
In the Omnis Majestic Regency Ballroom one of Washington DCs Largest Ballrooms!
If there is one place on earth synonymous with New Years Eve, its Times Square. The enthusiasm and energy of the famed crossroads of the world comes alive in the Omnis famed Grand Ballroom as we welcome in the New Year BIG APPLE STYLE!
Embrace your patriotic spirit with pride and enthusiasm as we transport you to a trendy New York nightclub setting with one of Washingtons best DJs spinning the greatest American retro, top 40, hip hop, and dance! A giant midnight balloon drop (with a hidden apple) and light show will welcome you to 2014. (…and you dont have to risk frostbite.)
The luxurious Grand Ballroom is one of the most elegant in Washington. It has seen the celebrations of many of Americas leading official inaugural Balls (since FDR) as well as historys most important figures from the United States and around the world. Dance in the footsteps of world leaders and movie stars as you celebrate the New Year Times Square Style in this majestic locale.
Again, be prepared as a GIGANTIC BALLOON DROP covers the dance floor at the stroke of midnight!
STARRING: DJ GEOMETRIX:
Recently named Breakthrough DJ of the Year by the Scene Magazine, is truly a master behind the decks. His amazing skills, celebrated experience and extensive knowledge of different genres of music has helped him become a staple in the D.C. nightlife scene, regularly performing and holding residencies at every major nightclub & lounge in the city. Winning numerous national DJ competitions early in his career he has always been listed as one of the Best DJs in D.C. by the City Paper and The Washington Post.
DJ Geometrixs skillful ability to mix an open format mash-up style from Top 40 to Motown to 80s to Rock have led him to DJ for some of the worlds biggest brands such as MTV, HP, Vans, Vogue, GQ, Levis, Ralph Lauren, Cadillac, Scion, Royal Caribbean, Red Bull, Sprite, McDonalds, Absolut, Belvedere, Heineken, and many more. It also led him to DJ for celebrities such as Lindsay Lohan, Goldie Hawn, Jenny McCarthy, Hangovers Jamie Chung, Nick Cannon, athletes from the Washington Redskins, Wizards & Capitals as well as sharing the stage with artists such as Armin Van Buren, Cobra Starship, The Ting Tings, Diddy, Lil' Jon, A-Trak, NERVO, just to name a few. Hes even DJd out at sea, acting as the celebrity guest DJ on Royal Caribbean Internationals Freedom class cruise ships. Hes been highly publicized as an elite and high demand DJ in magazines and newspapers such as XLR8R, Best Events, DJ Times, URB, Washington Times, Washingtonian, On Tap, and Go Magazine.
… and of course,
WASHINGTON'S LARGEST MIDNIGHT BALLOON DROP: THE BEST IN DC! (See http://www.youtube.com/watch?v=ZuZtQNJizhw for a clip from last years Balloon Drop)
2) EXCLUSIVE INTERNATIONAL CIRQUE PERFORMANCES AND CELEBRATION
Get ready for a gala filled with heart-stopping, mind-boggling displays of artistry and athleticism. Experience the wow factor and star quality of the circus tent, concert hall, and Broadway stage all in one fantastic evening. Indulge your curiosities and celebrate your senses as aerialists, acrobats, contortionists, and indescribable feats reignite your belief in human potential.
Tonight this party alone invites you to be blown away by the amazing acrobatic talents in our special CIRQUE PERFORMANCE especially designed for this night only!
With Cirque acts ABOVE and WITHIN the audience, you will be amazed at the fantastic spectacle that awaits you this special night! Dressed in elegant cirque costumes, well be privy to THREE aerial performances (including a special midnight show). ALSO, throughout the evening, our artists will provide a variety of cirque/circus acts including magic, cirque style juggling, the unicycle and the famous giant bubble. They will also be available for pictures and meet and greets.
Tonights artists balance, toss, catch, twist and intertwine in an elegant ballet of strength and stamina.
3) THE LAS VEGAS EXPERIENCE:
- Starring ONYX
Hit the Strip and try your luck with mock gambling at blackjack, craps, poker, and the slots. While enjoy the gambling experience, enjoy our Las Vegas headliner!
Things To Do is honored and excited to have secured one of Washington, D.C.'s best party bands – "ONYX" – to ring in 2014. Onyx will bring its diverse array of Retro, Top 40, contemporary, and classic hits to guarantee a good time.
Onyx is best known throughout the Mid-Atlantic region for marrying style and energy into one amazing show. Their unique vocal talents and audience rapport and interaction give everyone a reason to stay where they belong, on the dance floor.
4) THE LATIN AMERICAN AND SOUTH AMERICAN CARNIVAL EXPERIENCE:
THE 1950′s HAVANA SALSA EXPERIENCE
Optional Salsa Lessons at 10 PM
During the 1950′s, if you wanted some hot Salsa Dancing, you went to the most popular night spots and hotels in Havana. Tonight, youll find it in the Omni Shoreham!
This is not Fidel Castro's Cuba, but the wild times of 1950s Havana where Americans once vacationed, relaxed and danced in style! Enjoy Salsa and Merengue throughout the night as we bring you a taste of the hottest Latin music around.
Our Havana celebration will be packed with flavor! The irresistible sound of one of Washingtons hottest Salsa DJs, will lead your feet to the dance floor for an exciting night of dancing to Latin sounds!
5) THE CARIBBEAN – STARRING DJ PUMPKIN
Want to take a break from the busy streets of a Metropolis? How about a visit to the beach and an exciting Barbadian, Jamaican, Bahamian music! The Spirit of the Caribbean comes alive as you enter this tropical paradise with a New Year's style island celebration!
Here you will experience one of Washington's most celebrated DJs DJ PUMPKIN! DJ PUMPKIN is a star of many of the Caribbean Embassies and he has plenty of International fans, especially throughout the Caribbean! He is a regular performer every Friday Night on the internet radio station.
Do the limbo, dance the Conga line, raise your hands, and dance like crazy all night long!
BONUS: WIN A TRIP TO THE CARIBBEAN!: Enter a drawing to win a vacation trip to one of the Caribbean Islands or Cancun, Mexico.
6) CARNIVAL PARADE OF RIO De JANIERO and ALL SOUTH AMERICA – WITH LIVE NATIVE CARNIVAL SAMBA DANCERS
As a special treat, tonight we take you to the Sambadrome of Rio De Janeiro through a special music and dance performance. Dressed in Carnival costumes, well experience an amazing Carnival performance in parade style representing Rio De Janeiro and a medley of other Caribbean and Latin American countries.
Dance the Conga line, sip some island cocktails, and take in the relaxing atmosphere that is the Caribbean and Latin America!
7) THE DUBLIN EXPERIENCE with a LIVE IRISH BAND
When you want to take a break from dancing, and relax with a beer and a song, grab a seat in our Irish Pub as you celebrate with a live, authentic Irish band featuring some of your favorite Irish tunes. The Irish know how to party and Auld Lang Syne makes a lot more sense with a pint of Guinness or green lager in your hand.
THE TOKYO EXPERIENCE: KARAOKE
- Make Your Own Entertainment
In Japan, karaoke is a religion. The hottest clubs in Tokyo have private booths where you can live out your rock and roll star fantasies. Tonight, we bring the spirit and feel of urban Tokyo to Washington and make you the center of it all. Take the stage and sing your heart out. Choose your song and perform it live in front of everyone. Also, take home a special free souvenir as a leading local caricaturist draws your picture with a unique background.
9) THE PARIS EXPERIENCE
BASTILLE DAYS EURO HIGH ENERGY CLUB EXPERIENCE
Want to take down the French nobility like never before? Those looking for an intense high energy European Nightclub experience need look no further. Rivaling the best hot spots of Paris, Berlin, Rome, London, Prague, Madrid, and Amsterdam tonight we offer you non-stop, pulsating, high energy Euro Dance beats and club music from one of Washingtons top DJs.
10) THE BOLLYWOOD EXPERIENCE:
Bollywood combines the music of India with the beats of the West to create something unique and incredibly fun. Going out in Mumbai, Chennai, or Delhi has become a must-do for every worldwide star, and tonight you get to experience it as they do. Our DJ will make you believe youre in Mumbai with high-energy music unlike anything youve experienced before.
11) THE AUSTRALIAN EXPERIENCE: Live Australian Duo
When the Irish band takes a break, it is time to go down under and travel halfway around the globe to relax and sing along with Australian Captain Jack and his special blend of native tunes. Say Gday to 2014 as he generates the intensity of Sydneys favorite pubs and sing along in the century old Australian spirit festive spirit!
12) WASHINGTONS FIRST EVER NEW YEARS EVE TIME MACHINE
(INCLUDES MULTIPLE DANCE LESSONS)
For the first time ever, we are turning one of the Omnis large ballrooms into a huge New Years Eve Time Machine! Every hour, we will celebrate new Years Eve as if it were a different era in time taking us all the way from the 21st Century to 2014!
Featuring:
A) BALLROOM CLASSICS of the 18th and 19th Century: Its New Years Eve in 1889. The dance halls of Vienna are filled with Mozart, Schubert and Strauss! Learn basic ballroom dancers from local dance master instructors. Followed by an early evening of ballroom classics to dance your way into the 20th Century
B) ARGENTINA TANGO OF THE LATE 19th CENTURY: As part of our Ballroom Dance Celebration, we will take you to the origin of TANGO as our dance instructors get you started on an incredible recreation of hottest Tango clubs of 1899 Buenos Aires.
C) SWING MUSIC WITH LESSONS: PROHIBITION, WWII, THE 1950s:
From the days of the Great Gatsby and the time alcohol was illegal, people will swinging and swinging and didnt stop regardless of the 18th Amendment, or the War. Tonight, local swing masters will teach us how to Charleston and Lindy hop and dance some amazing Swing moves as we practice for the next generation of the New Years Eve during the Roaring 20s (only 6 years away).
D) THE 70s, 80s, and 90s!
The BeeGees, Saturday Night Fever, All in the Family to the Rubix Cube, Madonna, Bon Jovi, Gorbachev, to Hootie and the Blowfish, Seinfeld, the rise of the Internet and more! Tonight, each hour we take a live trip through time as an incredible live band sings, dresses and performs an incredible trip through four decades via music!
E) THE 21st CENTURY:
Now that 2014 has arriving we are going to hit the present like it is non stop! Dance to the high energy hits of some of the top clubs in the World as DJ X-Tac brings transforms the Omni Shoreham into a 21st Century Extravaganza that will keep you celebrating well into the future
For your price of admission, in a single evening, you will revel in and enjoy:
- One of Washingtons Most Luxurious and Historic Hotels
- Fully Stocked Open Bar
- Plenty of Comfort Space with No Long Lines for Food or Drinks
- Midnight Champagne Toast
- Elaborate Buffet Menus (served by the same kitchen that serves royalty)
- Washingtons Best DJs
- Exclusive Cirque Performances
- The Live Talents of Onyx
- The High-Energy Rockin Beats of DJ Geometrix
- The Live Caribbean Talents of DJ Pumpkin
- Salsa (with optional lessons)
- Swing (with optional lessons)
- Tango (with optional lessons)
- Karaoke
- A Costumed Carnival Celebration
- Live Irish Music
- Live Australian Music
- Magic
- Caribbean Music
- Huge Balloon Drops
- Mock Casino Gambling
- Special Guests
- Caricaturist
- Hats, Tiaras, Party favors and Giveaways
- AMAZING Low Discounted Overnight Hotel Rates (only $135)
- plus many more surprises.

B. FULLY STOCKED OPEN BAR & ELABORATE INTERNATIONAL DINER MENUS:
The kitchen that has served every president since its inception, world leaders, celebrities and the very rich and famous, tonight will serve you as you welcome in 2014! This year, we have more open bars and food stations than ever to minimize lines for drinks and food. In addition to our open bar and midnight champagne toast, the Omnis chefs will have many unique food stations and menus including:
Carved leg of lamb, 3 herb sauce
Taboullleh, fatoush, baba ghanoush
Spicy local beef keftas harra
Chicken shwarma
Modardara-green lentils and rice
Glass noodle salads in Chinese take out boxes, chop sticks
Home made steamed buns
Vegetable summer rolls, dipping sauces
Pho station- mushroom and beef broth. Shaved sirloin, mushrooms, carrots, sprouts, scallions, thai basil, cilantro, lime wedges, siracca, hoisin
Small plates tuna sashimi style, yuzu vinaigrette, micro greens
Menu Buffets Above (9:00 pm – 10:30 PM)
Dessert Display (11:00pm-1:00am)
Chocolate Fountain
Flowing Milk Chocolate to be Dipped with Fresh Cubed Maui Pineapple and Cantaloupe, Sliced Bananas, Fresh Whole Strawberries, Marshmallows, Pretzel Sticks, Pound Cake and Rice Crispy Treats.
Miniature French & Viennese Desserts to Include:
Linzer Tart, Sacher Tart, Chocolate Opera Triangles,
White Chocolate Mousse Cake, Apricot Tart with Almonds,
Biscotti and Chocolate Truffles
Fresh Fruit Display
Strawberry Dipping Sauce
Freshly Brewed Starbucks Regular and Decaffeinated Coffee
Tazo Hot Teas
VIP OPTION
A special VIP option with an earlier dinner, private elegant seating, private entertainment, white glove treatment, early arrival and check in privileges and other special amenities is available.
OPTIONAL OVERNIGHT HOTEL STAY – Only $135 a Night!
TTD has arranged with the Omni Shoreham for an optional overnight hotel stay on New Year's Eve – at the incredible rate of $135 for the night!
Room Amenities include
Plush robes available
Iron and ironing board
In-room laptop-sized safes
Extra pillows and blankets
Marble bathrooms
Complimentary USA Today delivered to your room each weekday morning
Work desk
Hair dryer
Coffee maker served with complimentary Wolfgang Puck coffee / Tazo tea
Clock radio with MP3 / iPod adapter
Windows that open
Rollaways in king rooms
In-Room Technology
High-speed wireless Internet access
Individual climate control
Two, dual-line phones with voice mail and dataport
LodgeNet system featuring on-demand hit movies and Nintendo 64 video games (additional fee)
Cable TV with remote
Click here for the $135 Room Rate
http://www.omnihotels.com/FindAHotel/WashingtonDCShoreham/MeetingFacilities/NewYearsEveGala12.aspx
Click here for the VIP Room Rate
http://www.omnihotels.com/FindAHotel/WashingtonDCShoreham/MeetingFacilities/NewYearsEveGalaVIPPackage12.aspx
THIS EVENT IS STRICTLY AN OVER 21 EVENT.
Suggested Attire: Black Tie Preferred
Directions: Omni Shoreham Hotel
2500 Calvert Street Northwest
Washington, DC 20008
Remember, this Party Sells Out Every Year and the price will regularly increase.
Last Updated on