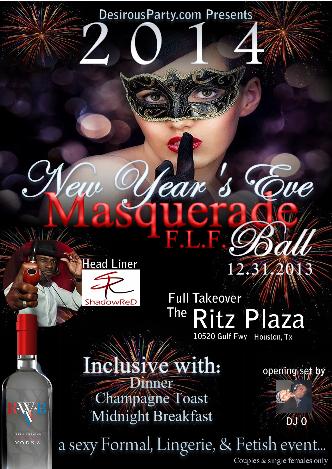 Venue:
When:
City:
Address:
Tue Dec 31 2013 800PM
Houston
10520 I-45 South
Couple: $135.00
DesirousParty.com is presenting the
New Years Eve 2014 Masquerade Party
-Formal- Lingerie-Fetish for a full club takeover at the Ritz.
"To masque the face is to unmasque the mind"
A Houston New Years Eve party where the themes symbolize a statement of sophistication, sex appeal and daring. A NYE Houston party encompassing room packages, dinner, two infamous Dj's, dance floors on both levels, New Years Eve Houston countdown, huge balloon drop, champagne toast and so much more. A high fashion NYE Houston soiree as Ladies don their most elegant fashions, alluring lingerie and or daring fetish apparel all hidden behind the mysterious mask. Men come Dressed To Impress and or join the daring fetish brigade. So, make plans to join individuals from across Texas and the U.S. as Desirousparty's Houston New Years Eve parties have become known nationwide for the upscale amenities, hotel party block, sexy and sophisticated people and a night that starts the New Year off with a Bang! The club is closed to normal patrons, club dancers and will be a full venue takeover by NYE party guests only. Meaning that all stages, cages, dance poles etc.. will be open to you.You do not have to be a member of DesirousParty.com to attend NYE. NYE Party
NYE Group Hotel Block-
Meet n Greet @Hotel Bar 4:30pm-6:00pm
Complimentary Transportation Arrives at Hotel-7:30pm
NYE Gourmet Dinner- Seafood and Prime Rib gourmet buffet for two plus dessert bar-included in NYE ticket price
Midnight breakfast bar-included in NYE tickets price
Three full service bars in club
Reserved Bottle Service Tables
Two dance floors, three raised dance stages, dance poles, three dance cages
High energy dance lighting, lasers, cannon foggers & moreDance floors on each level
Discounted drink prices with a total of five bar stations for easy access for drinks.
Party favors and a complimentary champagne toast at midnight.
Huge NYE balloon drop from the second level atrium at midnight.
Menu
Included in your party package for NYE- Menu starts at 7pm and lasts until 10pm (please arrive before 930pm if you wish to eat)
Prime Rib / Seafood Dinner Buffet———- Entrees ———-Prime RibBoiled Shrimp | Fried Shrimp | Chef's Grilled Fish-blackened TilapiaGrilled Chicken Breast———- Sides ———- Seafood Gumbo | Seared and Seasoned New Potatoes | Fettuccine AlfredoGrilled Veggies | Salad Bar With All the Trimmings———- Extras ———- Hot Garlic Bread Sticks | Assorted Cheese, Bread and Fruit TableAmbrosia Fruit Salad | Assorted Pastries, Pies and Cakes ——-Plus——-
Midnight Breakfast Bar*****A full course midnight breakfast bar as well.*****Waffles, Eggs, Pancakes, Sausage, Potatoes and more.
Note: You do not have to be a member of Desirous Party to attend this event. However, you must be a couple and or single female. So gentlemen grab a date for this event.
Last Updated on