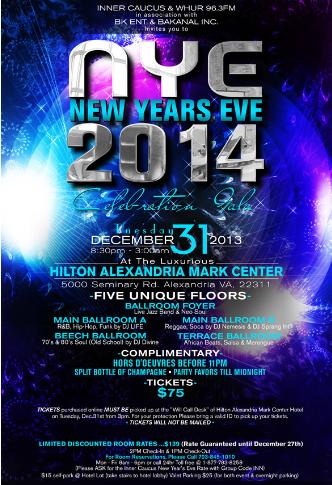 Venue:
When:
City:
Address:
Tue Dec 31 2013 830PM
Alexandria
5000 Seminary Road
Regular: $75.00
Inner Caucus & WHUR 96.3FM
in association with
BK Ent. & Bakanal Inc
Invites you to
New Years Eve Celebration Gala.
2013~2014
At The Luxurious
Hilton Alexandria Mark Center
5000 Seminary Rd. Alexandria VA, 22311
Tuesday, December 31st, 2013
8:30 p.m. – 3:00 a.m.
F I V E U N I Q U E S E T T I N G S
Ballroom Foyer ~ Live Jazz Band & Neo Soul
Main Ballroom A ~ R&B, Hip-Hop, Funk by DJ LIFE
Main Ballroom B ~ Reggae, Soca by DJ Nemesis & DJ Sprang Intl
Beech Ballroom ~ 70s & 80s Soul (Old School) by DJ Divine
Terrace Ballroom ~ African Beats, Salsa & Merengue
Complimentary: Hors D'oeuvres before 11pm * Split Bottle of Champagne * Party Favors till midnight
$15 self-park @ Hotel Lot (take stairs to hotel lobby)
Valet Parking $25 (for both event & overnight parking)
—————————————
TICKETS purchased online must be picked up at the "Will Call Desk" of Hilton Alexandria Mark Center Hotel on Tuesday, Dec.31st
from 3pm. For your protection Please bring a valid ID to pick up your tickets.
Last Updated on