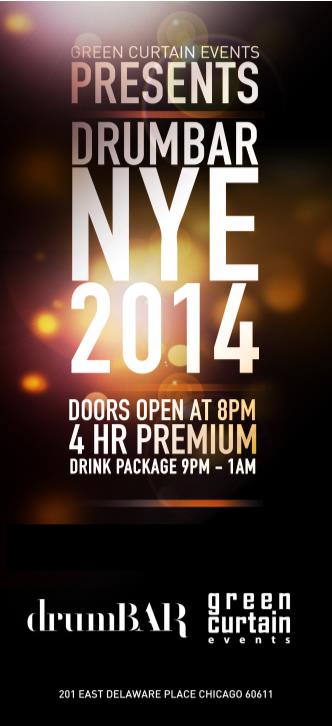 Venue:
When:
City:
Address:
Tue Dec 31 2013 800PM
Chicago
201 E Delaware Pl
General Admission: $150.00
Green Curtain Events Presents:
New Years Eve 2014 at Drumbar
Drumbar is a cocktail-focused rooftop lounge off MichiganAvenue atop the Raffaello Hotel. Itspeak of luxury reaches the highest limits in all of Chicago as does the venueand vibe itself. This Gold Coast attractionsupremely boasts an intimate and energetic ambiance that will provide anunforgettable experience for those in attendance this New Years Eve.
200+ Ultra-ExclusiveGuest List, DJ, Heated Glass Terrace with Skyline View, Countdown Spectacular,Premium Dcor and more.
All-Inclusive Package Price: $150
Ticket Purchase Includes:
4-HourPremium Drink Package
Passed High-End Catering
Complimentary Champagne & Red Bull
Live Entertainment
Party Favors
Welcome Reception Starting at 8pm for Early Processing
CoatCheck and Valet Available
HOTEL DISCOUNTS
ForRooming Accommodations within the esteemed Rafaello Hotel, please takeadvantage of our Preferred Nightly-Rates as a bonus for drumBAR Patrons. Enhance your countdown experience by residingin the same Magnificent Mile Structure as our main event for as low as $179 pernight.
Book DirectOnline:
https://bookings.ihotelier.com/bookings.jsp?groupID=1140295&hotelID=6033
Or Call-In with ourPreferred Attendee Block and Mention: Green Curtain NYE to 800.898.7198
*All guests must have a ticket to enter. Valid ID Required; Must be 21 to Enter. Drumbar reserves the right to refuse service for any patron at venue discretion. Venue is not responsible for any lost or stolen items
Last Updated on