BAR ROOM
Boston
5 Broad Street
1 Early Bird Ticket to the Barroom Boston: $25.00
2 Early Bird Ticket to the Barroom Boston: $50.00
5 Early Bird Ticket to the Barroom Boston: $125.00
10 Early Bird Tickets to the Barroom Boston: $225.00
For Nye 2015 we bring you the party of the year.
Penthouse at the Barroom Boston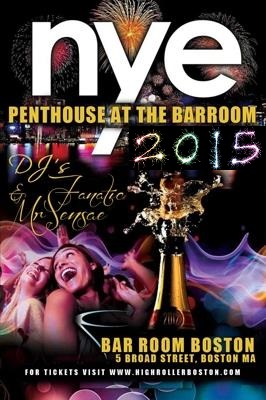 Come party with your friends & family at a Fun Club in Heart of Downtown boston.
Where: Bar Room Boston – 5 Broad Street, Boston, MA
Event Features:
* Party at the Historic Faniuel Hall/ Financial District of Boston
* Dj Fanatic Playing (Hip Hop/ Top 40/ Latin/ Reggae/ Reggaeton)
* Start early party late from 9pm – 2 am.
* Live Ball Drop on all TVs
* Champagne Toast at Midnight
* Tickets starting at only $25 pp.
For Questions/ Info/ Table reservations visit http://www.Highrollerboston.com or call Ray 617-416-8705
Last Updated on