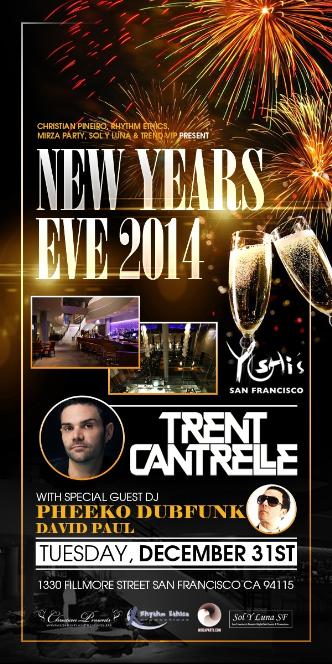 Venue:
When:
City:
Address:
FRIENDS & FAMILY Discount Ticket 60% Discount Applied: $59.99
FRIENDS & FAMILY (5 tickets PKG) 65% Discount Applied: $275.00
VIP Table (LOUNGE AREA) Tickets Not Included: $99.00
VIP Table (WINDOW SEATING) Tickets Not Included: $99.00
VIP Table (DANCEFLOOR) Tickets Not Included: $199.00
VIP ROOM (ENCLOSED GLASS ROOM on DANCEFLOOR) Tickets Not Included: $399.00
12.31.13 NEW YEARS EVE 2014 AT YOSHIS Featuring Superstar EDC DJ TRENT CANTRELLE

Tuesday at Yoshis :: The Biggest Balloon Drop in SF
Get ready for the best New Years party in San Francisco at one of the most beautiful venues this city has to offer, Yoshis.
A RED CARPET CELEBRATION FEATURING…
Superstar EDC DJ TRENT CANTRELLE
PHEEKO DUBFUNK And DAVID PAUL
Every New Years Eve over 750,000 people come to San Francisco to celebrate. This year, you can have a once in a lifetime opportunity to experience New Years Eve in style at the gorgeous Yoshi's Jazz Club.
When planning NYE event, we had few goals set in our mind. We wanted an event unlike any club event in the city, an in a venue that fits up to 1000 people, a gorgeous interior and an impressive DJ line-up to boot. It was not easy to find a place and create an event that has it all but we finally did it. We picked out a perfect location that is large enough to fit the people, has 2 levels, and has an unbelievably gorgeous interior.
Of course you can't have a party without some amazing talent. Where most events in San Francisco feature only local talent, we've gone big and brought in the Beatport Award nominated and the top 10 selling House songs in the world in 2012 LA-based DJ/producer Trent Cantrelle! That's right, everyone's favorite house DJ will be here for this special event and ready to rock the house!
When we were planning the party, it was very important to us to make the event affordable. This year, we are offering $35 Friends and Family presale tickets!!! YES, you heard it right…After all we said about this event and with high profile talent and venue, the presale tickets starts at $35. There's only a very limited number of tickets being offered at this price to make sure everyone has a chance to purchase tickets and attend our New Year Eve event. We highly suggest that you buy your presale tickets NOW before the price goes up!
Private V.I.P. TABLES with BOTTLE SERVICE are available for this special evening.
TABLE RESERVATIONS & BOTTLE SERVICE DETAILS
***Table reservation pricing DO NOT include TICKETS or BOTTLES***
Tickets must purchased separately in order to attend the event.Bottle Service Pricing attached at the bottom
All the luxury you've been waiting for this New Years at Yoshis San Francisco
Reservations require a start of 1 bottle $250 minimum and up depending location!
Reservations include VIP "cut the line" express entry for table reservee + ticketholder guests.
(NOTE: Bottle Reservations does not include tickets. Tickets Sold Separately.)
Tables seat at least 4 guests; however, there is room for additional guests to stand in your table area.
Don't waste any more time and purchase your discounted tickets today. Tickets will keep increasing in price as the time approaches. We highly recommend getting yours today, while prices are inexpensive. Don't wait until the last minute and get left behind.
THE BIGGEST BALLOON DROP IN SAN FRANCISCO
Public Parking Garage available across the street for those that wish to drive.
A New Year's Eve you'll never forget brought to you by some of San Franciscos best and top promoters Christian Pineiro, Trend VIP, Mirza Party, Rhythm Ethics, Sol Y Luna.
Yoshis is the best place to toast to the New Year under a gorgeous venue around your best friends.
VIP tables are available by presale reservation but are limited in quantity so please book accordingly.
21+ 9pm – 2am @Yoshis 1330 Fillmore St. San Francisco
Last Updated on