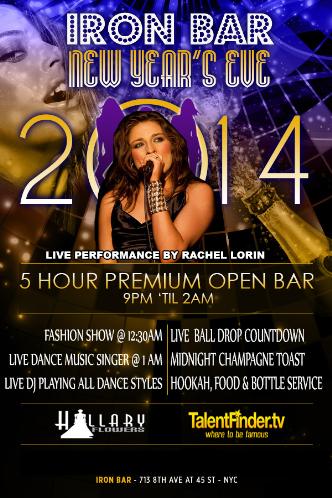 Venue:
When:
City:
Address:
Tue Dec 31 2013 900PM
New York
713 8th Ave. and 45th st
General Admission – After 12AM: $20.00
General Admission – 1 hour open bar 11 pm to 12 am: $40.00
General Admission with 5 hour premium open bar: $85.00
Seated VIP: $125.00
Ultra VIP: $150.00
Platinum VIP with food: $175.00
There's no better way to celebrate New Year's Eve in New York City than by hitting the Time Square zone, few blocks from the famed Waterford Crystal New Year's Eve ball drop.
This is, after all, the locale for the most highly anticipated New Year's Eve celebration on the planet! It's absolutely unforgettable and truly magical! Step out of the cold into some of the hottest parties in town. Come with your friends to celebrate new year's eve at the new IRON BAR
About Iron Bar
A stellar new Gastro Bar, Restaurant & Lounge just a block off Times Square, the Iron Bar & Lounge has something for the everyone. The lunch crowd, the happy hour crowd, sports fans and the Broadway show crowd.
A featured selection of great gastronomic treats, 45 tap beers on tap and 45 bottled beers on the corner of 45th St and 8th Ave. There are 20 television screens for sports fans including a 16ft wide projection and an amazing lounge area that is all sleek sofas and comfort all in one big beautiful bar on the west side of Midtown NYC.
. 5 hour premium open bar from 11 pm to 4 am
. Featuring a live DJ Playing all music styles
. Dance Music Singer / MC
. Lingerie Runway Show
. Live televised NYE 2014 countdown
. Festive NYE party favors
. Midnight champagne toast
. Hookah, Food & Bottle Service
General Admission $20 after 12 am
. Featuring a live DJ
. Live televised NYE 2014 countdown
. Festive NYE party favors
. Midnight champagne toast
General Admission $40 with 1 hour open bar 11 pm to 12 am
. Featuring a live DJ
. Live televised NYE 2014 countdown
. Festive NYE party favors
. Midnight champagne toast
General Admission $ 85 with 5 hour premium open bar
. 5 hour premium open bar
. Featuring a live DJ
. Live televised NYE 2014 countdown
. Festive NYE party favors
. Midnight champagne toast
. Come early and help reduce wait time
. All General Admission benefits (including open bar)
. VIP priority admission by separate VIP line
Seated VIP $ 125
. All general admission benefits (including open bar)
. Enjoy reserved seating in front of the bar
. Each Seated VIP ticket holders shall have a reserved seat for the
entire event
. Seated VIP tickets accommodate individuals and any size group (no
minimums required – pending availability)
. There is no bottle or cocktail service for Seated VIP ticket
holders.
. 1 H00kah per 4 people
Ultra VIP $150
. All general admission benefits (including open bar)
. Enjoy reserved nightclub seating (GA ticket holders stand)
. Bottle service and mixers at your table (quantity depends on group
size –
please refer to bottle chart for specific information)
. Table Bottle service sections will be staffed with servers who will
be available to assist you
upon request for additional drinks.
For Open Bar drinks please feel free to use any of the Open Bars.
. Bottle service gratuity is a mandatory charge paid to the venue on
the night of the event.
It is NOT included in the ticket price. (Bottles are included in ticket price!)
. Each guest at a Platinum VIP ticket holder (ticket price is per
person)
. VIP priority admission by separate VIP line
. Table Sizes (pending availability) accommodate groups of 4 or more
. 1 H00kah per 4 people
No. of Bottles
4 to 6 People 1 Vodka / 1 Champagne
7 to 10 People 2 Vodka / 2 Champagne
11 to 15 People 3 Vodka / 3 Champagne
16 to 20 People 4 Vodka / 4 Champagne
Platinum VIP with food $175
. All general admission benefits (including open bar)
. Enjoy reserved nightclub seating (GA ticket holders stand)
. Bottle service and mixers at your table (quantity depends on group
size –
please refer to bottle chart for specific information)
. Table Bottle service sections will be staffed with servers who will
be available to assist you
upon request for additional drinks or food.
For Open Bar drinks please feel free to use any of the Open Bars.
. Bottle service gratuity is a mandatory charge paid to the venue on
the night of the event.
It is NOT included in the ticket price. (Bottles are included in ticket price!)
. Each guest at a Platinum VIP with food ticket holder (ticket price
is per person)
. VIP priority admission by separate VIP line
. Table Sizes (pending availability) accommodate groups of 4 or more
. 1 H00kah per 4 people
. $20 worth of food from Iron Bar menu
No. of Bottles
4 to 6 People 1 Vodka / 1 Champagne
7 to 10 People 2 Vodka / 2 Champagne
11 to 15 People 3 Vodka / 3 Champagne
16 to 20 People 4 Vodka / 4 Champagne
Last Updated on