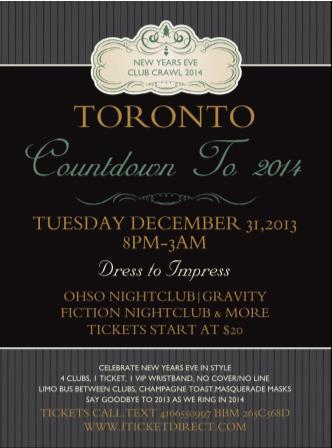 Venue:
When:
City:
Address:
Tue Dec 31 2013 800PM
Toronto
Various venues
VIP General Admission: $20.00
VIP Limo Bus & Admission: $25.00
NEW YEARS EVE CLUB/PUB CRAWL 2014 TORONTO
TORONTO, CANADA TUESDAY DECEMBER 31,2013-8PM-3AM
4+ VENUES|4 NEW YEARS EVE EVENTS|4 PARTIES|1 TICKET|1 VIP WRISTBANDS|LIMO BUS BETWEEN VENUES
OHSO NIGHTCLUB-GRAVITY SOUNDBAR-MYSTERY LOCATION & FICTION NIGHTCLUB
This New Years Eve get ready and join us as we present to you the 2014 New Years Eve Club Crawl. Party at 4 of Torontos hottest nightclub venues in downtown Toronto as we say goodbye to 2013 and ring in 2014 with thousands of people in style! (VIEW LAST YEARS PHOTOS AT FACEBOOK.COM/NEWYEARSEVECLUBCRAWL)
1ST STOP- OHSO NIGHTCLUB 137 PETER ST (8PM-930PM. FIRST STOP & WRISTBAND PICK UP LOCATION)
2ND STOP- GRAVITY SOUNDBAR, 3RD STOP MYSTERY LOCATION AND YOUR FINAL DESTINATION FICTION NIGHTCLUB
How does it work:he NEW YEARS EVE CLUB CRAWL 2014 is easy and simple. Party at 4+ of Torontos hottest parties and venues with 1 VIP Wristbands.Your ticket & VIP Wristbands enable you to club crawl and club hop between all 4+ venues, 4 different New Years Eve Themes and the best part, all venues are walking distance. Each venue will have a variety of different music, DJs and MCs. The party will start at OHSO and will finish off at FICTION NIGHTCLUB. Your wristband give you no cover part of the New Years Eve Club Crawl.
Your official NYE CLUB CRAWL Party Tickets Include:
*Tickets to 4+ venues|NO COVER|NO LINE
*LIMO PARTY BUS TRANSPORTATION (FOR VIP PARTY BUS TICKET HOLDERS)
*Champagne toast at midnight
*Hors Doeurves, Party Favors
-NYE 2014 Hats
*VIP Wristbands
*Photos of you and your friends
Starting Destination at 8PM- OhSo Nightclub (137 Peter St)
The night will begin at OhSo Nightclub located at 137 Peter St downtown Toronto. Party on 3 floors, 2 level rooftop patio. Guest DJs playing all your top tunes. Please make sure to arrive early. Doors open at 8pm sharp.

Starting at 930pm the party will continue to the brand new GRAVITY SOUNDBAR. Party on 2 floors, 4 rooms, 3 sounds.(296 RICHMOND ST WEST)

From Gravity Soundbar, We will make our way to mystery destination & our final destination- FICTION NIGHTCLUB (180 PEARL ST):
2 Floors, 2 Sounds as we say goodbye to 2013 and ring in 2014.

THE LIMO PARTY BUSES:
TAKE AN INSIDE LOOK AT THE LIMO PARTY BUSES:
ADVANCE TICKETS ONLY EVENT-HOW TO BUY TICKETS:
TICKETS ON SALE NOW- ITICKETDIRECT.COM, TICKETZONE.COM
CASH ORDERS & TICKET DELIVERY- CALL.TEXT 416-655-0997 BBM 265C568D
TICKETS:
$20 General Admission|$30 VIP LIMO BUS & VIP ADMISSION TICKETS|$25 PARTY BUS & VIP ADMISSION
(UNTIL NOVEMBER 30|TICKETS INCREASE WEEKLY)
Limited party bus tickets available for this exclusive party on wheels
WRISTBAND POLICY:
Wristbands will be available on the day of the event from the starting location-OHSO NIGHTCLUB- between 8pm-930pm located at 137 Peter St. Wristbands may only be picked up at the starting location. Arrive early to pick up your wristbands. Note that party buses start to depart from OHSO NIGHTCLUB at 9pm sharp. Party bus ticket holders have until 9pm to pick up their wristbands, General Admission ticket holders have until 10pm. BUSES DEPART AT 9PM SHARP FOR ALL PARTY BUS TICKET HOLDERS! Once you purchase your tickets you will receive an eticket in your inbox from the email you provided. Please remember to print off your eticket and present it to event organizers or you may pull it up from your mobile devices. For any reason you cant make it to the starting location to pick up your wristbands, have one of your guests pick them up for you and you can meet them at the destination they arrived to.
*19+ event, VALID ID REQUIRED*
F.A.Q.
Music Genres:
Hip-Hop, r&b, reggae, old school, house, euro, top 40, club hits
*Each venue will showcase over 4 DJs and 4 Different Themes*
Dresscode:
Dress to impress. No hats, no runners. Dress nice its New Years Eve
NYE Club Crawl F.A.Q:
Q- Where would everyone meet up?
A- Everyone will meet up @ at 8pm-9pm at OHSO NIGHTCLUB and present their ticket stubs or e-tickets and receive a VIP wristbands to get the exclusive all access treatment to the NYE Club Crawl. Starting at 9pm the party will continue as we club crawl to its next destinations in the downtown Toronto core.
Q- How Does this actually work?
A- Once you have received your wristbands you will get VIP treatment at each venue. Simply show your wristband at the venue and you will get no cover, no line during the club crawl. Our super fun party hosts will lead the way to the different locations and party bus ticket holders will have party bus transportation between venues starting at 9pm.
Q- What time will I be able to get my Wristbands?
A. Wristbands will be available between 8PM-930PM at OHSO NIGHTCLUB on December 31. Please arrive early to receive your wristbands. Wristbands are only available at the starting location. Your wristbands are your only way to join the club crawl.
Q- What time do buses leave?
A- Buses will leave from OHSO at 9pm sharp, Please arrive early to receive your VIP Wristbands. Each bus will have a different route heading to all the venues part of the club crawl.
Q- How do we get from club to club?
A- All Clubs Are Around a 30seconds-1Minute Apart. Simply Crawl, Stomp, Walk Or Run.All wristbands holders will follow as a group to all venues part of the club crawl, your wristbands will have the list of venues in order. VIP Party Bus tickets are also on sale now. Party bus tickets include a very super fun party bus, VIP transportation between clubs, buses will have different routes.
Q- Will their be drink specials?
A- At select venues we will offer drink specials
Q- What if I cant make it to the 1st location to pick up my wristbands?
A- We recommend everyone to arrive at the main stop if you cant make it please send someone to pick up your wristbands and you can meet them at their current location to join the party.
Q- How do we know when to go to the next location?
A- Our MCS will announce when we will be heading to the next destination. Everyone will be notified 20mins before departure. Also your wristbands have all the set times and venue details just in case you missed the announcement
Q- Can we order bottle service at the last destination?
A- Yes simply call.text 4166550997 BBM 265C568D for VIP Booth Packages
Q- Can we go to any of the destinations after midnight?
A- Because its New Years Eve all venues will be at capacity and it is recommended to stay at your location.
Q- Whats the difference between VIP General Admission & VIP Party bus tickets?
A- VIP General Admission gives you all the same benefits- no cover, no line, etc but without the party bus so you may club crawl to the destinations during its hours without the bus and VIP Party bus simply gives you VIP transportation without walking.
Last Updated on