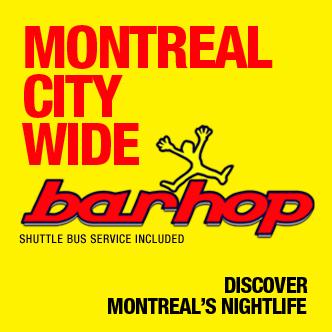 Venue:
When:
City:
Address:
Mon Dec 30 2013 800PM
Montreal
2020 Crescent
BARHOP VOUCHER – JET NIGHT CLUB: $25.00
Welcome To Montreal's Biggest Party!!

THE MONTREAL CITY WIDE BARHOP 2013 EDITIONFeaturing: 40 DJS, 17,000 PEOPLE, 1 NIGHT, 1 CRAZY PARTY!!! SHUTTLE BUS SERVICE INCLUDED
.
EXPERIENCE MONTREAL'S HOTTEST NIGHT CLUBS
Here's Your Chance To Discover Montreal's Incredible Night Life! Journey To The Land Of Dance, A World Of Hip Hop, A Universe Of Techno As The City Wide BARHOP Kicks Of A Night Of Non Stop Adrenaline Pumping Action!
All You Need Is To Purchase The BARHOP Bracelet For Only $25.
The Bracelet Entitles You To BARHOP Montreal's Hottest Night Clubs Absolutely Free!
Shuttle Bus Service Included!
On Monday December 30th, Kick Of The Montreal City Wide BARHOP At JET NIGHT CLUB:
2020 Crescent (Corner De Maisonneuve West)
IMPORTANT PICK UP INFO:
—————————————
If You Buy A Bracelet On Clubzone, You Must Present Youself At JET NIGHT CLUB & Mention That You Are On The ClubZone Will Call List.
JET NIGHT CLUB Will Open Its Doors At Noon For The Clubzone WILL CALL LIST.
If You Dont Have A Bracelet Yet, Or You Need To Purchase More Bracelets, No Worries! You Can Purchase Your Bracelet(s) The Night Of The Event ONLY At JET NIGHT CLUB: 2020 Crescent (Corner De Maisonneuve West)
OFFICIAL BAR HOP PREMIUM VENUES:
———————————————————-
1) JET NIGHT CLUB, (BRACELETS AVAILABLE HERE ON DEC 30TH) 2020 Crescent Street (Corner De Maisonneuve West)
2) STOGIES (Crescent Street)
3) ICE BAR (Crescent Street)
4) LONDON PUB (Crescent Street)
5) CLUB ENTOURAGE (Crescent Street)
6) CLUB MIX (Crescent Street)
7) CLUB LABOOM (Stanley Street)

PEEL PUB (Peel Street)
9) CLUB IVY: 3556 Boulevard Saint Laurent
10) WINDSOR HYPER BAR: 3565 Boulevard Saint-Laurent.
MORE TO BE ANNOUNCE!!!


THE OFFICIAL BARHOP AFTER PARTY IS HELD AT CIRCUS AFTERHOURS (2AM TO ??)
ADMISSION IS $10 IF YOU HAVE YOUR BARHOP BRACELET. WITHOUT $25.00
——————————————————————————————————————————————–
BAR HOP PRE-SALES $25.00
ON THE NIGHT OF THE EVENT BRACELETS
JET NIGHT CLUB: 2020 Crescent (Corner De Maisonneuve West)
———————————————————————————————————————————————
**** WARNING****

BEWARE OF IMITATIONS!!! THIS IS NOT "CLUB CRAWL", ASK FOR THE REAL THING. ASK FOR THE BAR HOP. "CLUB CRAWL BRACELETS" WILL NOT GET YOU IN THE BAR HOP CLUBS & YOU WILL NOT BE ABLE TO GET ON THE BAR HOP SHUTTLE SERVICE TO GO FROM NIGHT CLUBS TO NIGHT CLUBS!!!
18 AND OVER – PARTY SAFE – DRINK RESPONSIBLY
Last Updated on