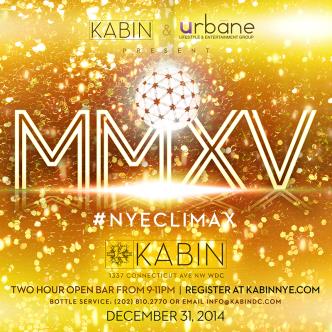 General Admission 9pm to 4am: $60.00
Midnight After-Hours Admission – 12mid to 4am: $25.00
VIP Open Bar Admission 2 Hr Open Bar: $100.00
VIP Table Service: $100.00
"MMXV" New Year's Eve 2015
December 31, 2014 @ KABIN Lounge (1337 Connecticut Ave NW)
9PM – 4AM
Midnight Champagne Toast
Live Ball Drop Feed provided by ABC
Complimentary Party Favors
VIP Ticket option with Open Bar
Midnight After Party – Party with us until 4AM!
FAQs:
Q: Do I need to print out a ticket for MMXV #NYEclimax?
A: No, its not required. We will check-in all guests via Eventbrite Mobile at the front door via Ipad. We will match your ID to ticket name registered on eventbrite.
Q: Where is Kabin?
A: It is located on Connecticut Ave NW right before Dupont Circle. It's located on the east side of the street at 1337 Connecticut Ave NW, Washington DC.
Q: How is parking? Best method of transportation?
A: Valet parking will be available at the event as well as street parking and parking garages. There' are several 24-hour parking garages on M Street & 18th Street. Private transportation/Limo Sedans are available for #NYEclimax ticket holders. Call CarNoir at (414) 939-6647 or Oscar Dailey at (703) 725-5009.
Q: Are there age restrictions?
A: Yes, must be 21+ years of age or older with valid ID. Target demo for this event is 25 to 35.
Q: Can you pay admission at the door?
A: Yes. Price may increase slightly over the course of the event.
Q: Is there a dress code?
A: We reccomend semi-formal attire. Men in slacks, blazers, and hard bottoms shoes. Women in dresses/skirts and heels. Most importantly, be beautiful and sexy. We reserve the right to deny entry for attire or attitude. We may turn people away, and refund tickets if necessary, for attire.
Q: Is Bottle Service available?
A: Yes.
Last Updated on