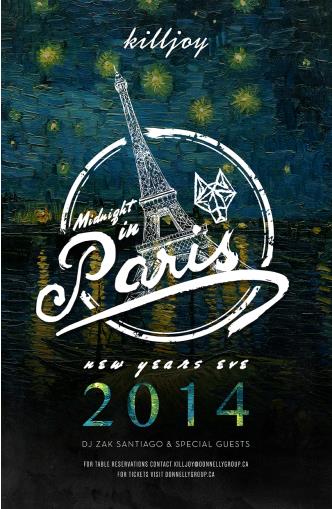 Venue:
When:
City:
Address:
Tue Dec 31 2013 900PM
Vancouver
1120 Hamilton Street
Early Bird 4: $75.00
Killjoy & Moet Present…
MIDNIGHT IN PARIS NYE 2014
Bonsoir! Celebrate this New Year's Eve in the city of light as Yaletown's only basement nightclub takes you to Midnight in Paris! Experience the thrill of Paris while dancing the night away with Parisian inspired decor, french maids and sexy mimes as we ring in the New Year with great party favours and a complimentary champagne toast at midnight with special guest DJ ZAK SANTIAGO rockin' the dance floor til 4am with open format hits.
For table reservations contact killjoy@donnellygroup.ca.
Get your tickets now to MIDNIGHT IN PARIS!
Last Updated on