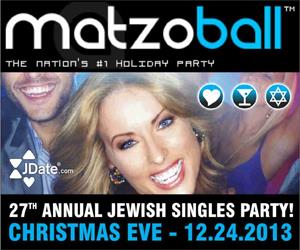 Venue:
When:
City:
Address:
Regular: $30.00
The 27th Annual MatzoBall 2013 promises to bring you an unforgettable night. The Matzo Team has been throwing these parties for almost three decades, and has mastered the art of FUN!!
Part reunion, part date night, USA Today dubs this annual affair the Nations No. 1 Holiday Party.
One thing is for sure: NOBODY DOES IT BETTER!
Come have a ball at the MatzoBall 2013!! Doors open at 9 pm and we advise you arrive on time to avoid lines.
Last Updated on