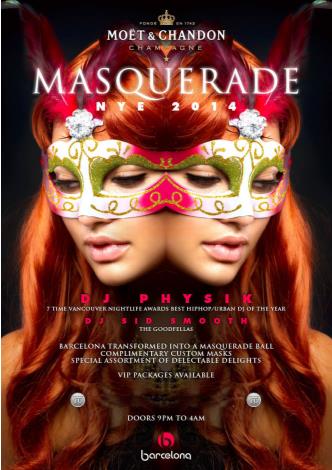 Venue:
When:
City:
Address:
Tue Dec 31 2013 900PM
Vancouver
1180 Granville Street
Buy 8 get 2 free: $440.00
After 130am Tickets: $20.00
This Event SELLS OUT Annually, Get Your Tickets Before Price Increases!

Do you want to Celebrate NYE where the CELEBRITIES Party in Vancouver like LADY GAGA, PINK FLOYD, OWEN WILSON, KATE BECKINSALE, LMFAO, REESE WITHERSPOON…If so BARCELONA has you covered!

MOET & CHANDON

Presents
Masquerade NYE 2014

…inside Vancouver's ONLY premium night club on the Granville Strip!
FEATURING:

Headliner DJ PHYSIK 7 time winner of best DJ in Vancouver
DJ SID SMOOTH (The Goodfellas)

Complimentary
Custom Masks

Barcelona Transformed into a
Masquerade Ball

Special assortment of treats for your pleasure

10 Person VIP Package:

10 – Quick Entry VIP Tickets
1 – 750mL Bottle of Moet Champagne
1 – 750mL Bottle of Belvedere Vodka
1 – Strawberries & Chocolate Platter

6 Person VIP Package:

10 – Quick Entry VIP Tickets
1 – 750mL Bottle of Belvedere Vodka
1 – Strawberries & Chocolate Platter
4 Person MOET Package:
4 – Quick Entry VIP Tickets
1 – 750ml Bottle of Moet Champagne
Doors at 9PM to 4AM
Last Updated on