MIDNIGHT AT THE MARRIOTT
This will be the Third Sold Out New Years Marriott Event in Vancouver this year so make sure you get your NYE 2015 party tickets soon!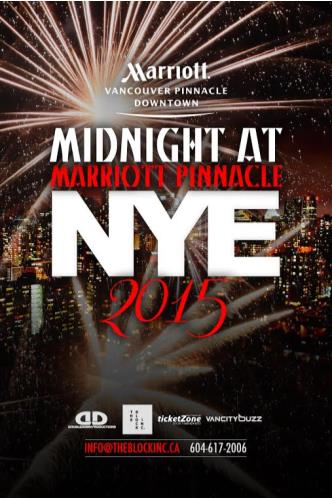 Venue:
When:
City:
Address:
Marriott Pinnacle
Vancouver
1128 West Hastings Street
Dinner & Dance (Dinner 7:30pm): $120.00
General Admission: $80.00
Group of 10 (Non Dinner): $695.00
Group of 10 Dinner/Dance: $900.00
VIP -DINNER/DANCE: $1950.00
VIP-DANCE ONLY: $1350.00
THE BLOCK INC. PRESENTS NYE 2015

Midnight at the Marriott
Third Sold Out New Years Marriott Event 
This Celebration is about one thing: the countdown to a new year, a new beginning. How you arrive to the countdown becomes a part of your story. This year, we invite our guests at the Marriott Pinnacle to experience NYE through their palate featuring amazing live food action stations by Chef Frank Gort and his culinary team at the Marriott followed by World class live music and DJ's.
Featuring:
One of the largest NYE hotel parties, set to take place at the exceptional Marriott Pinnacle in downtown Vancouver.
Midnight desert buffet stations by Chef Frank Gort and his culinary team
Dinner tickets feature a delectable cocktail reception menu prepared by Marriott Pinnacle's Chef Gort and early exclusive access to the main ballroom.
Guests with dinner tickets will be entertained by live performances – highly talented Gio Levy & David Martone
DJs Downlowe  with Rockwell Family Lokoboy & Relik playing the latest hits to keep you dancing all night long.
Live countdown to 2015 accompanied with a balloon drop and champagne.
Age:
23 years old and older

Dress Code:
Chic and Sassy – Mandatory Gentleman Jacket or Suits.
Menu
Dinner stations will be available from 8:00pm – 10pm and will include  Chinese rice stations,  West coast sushi, Southern chicken & biscuits, Baja tacos, and an assortment of Spanish tapas
Ticket Information: (Limited tickets at $80 more thereafter) 
info@theblockinc.ca
604 617-2006

Marriott Pinnacle Hotel Information

1128 West Hastings, Vancouver
Please drink responsibly! We are excited to share special NYE room nights, starting at $109 / night (subject to rate increase)