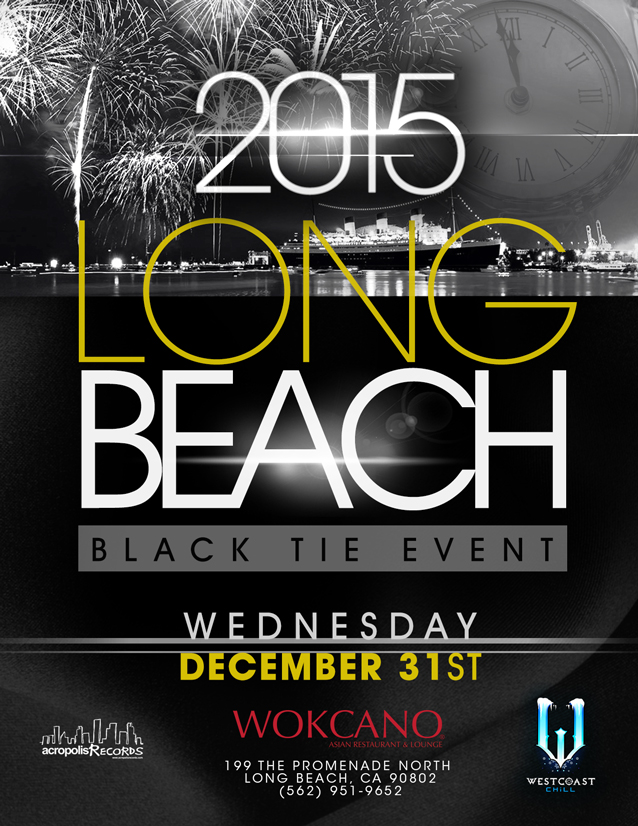 WOKCANO – LONG BEACH
Long Beach
199 The Promenade North
GA: $25.00
LBNYE 2015
BOTTLE SERVICE
GREY GOOSE
JOHNNY WALKER RED
JACK DANIELS
HENNESSY
PATRON
$250.00
1 Bottle
Good for four (4)
$400.00
Join us at Wokcano Long Beach for the 2015 NEW YEARS EVE celebration! Located a block away from the Downtown Long Beach Block Party!
TICKETS ON SALE NOW!
LBNYE2015.eventbrite.com
Wokcanos New Years Eve will feature DJs in two different rooms!
**Room 1**
Top 40, Hip Hop and Dance floor Club Hits.
**Room 2**
House, Electro, Trance and Dub Step.
Balloon Drop with prizes from our sponsors, party favors and Wokcanos proprietary Champagne Sake Bombs for our VIP guests.
Dinner and Dance for $50.00/person* includes a 4 course meal and a glass of champagne. Entree options include:
Black Pepper Beef Mignon
Teriyaki Chicken
Honey Walnut Shrimp
Sushi Dinner (Spicy Tuna Roll and 9pc Sushi)
Dinner Reservation is at 8:00pm
(call 562-951-9652 to make Dinner Reservation – required for NYE due to limited seating.
Dance starts at 9:30pm
Early Bird Entry is $25.00, subject to change closer to the event and will be higher on the night of.
Bottle Service List:
Grey Goose
Johnny Walker Red
Jack Daniels
Hennessy
Patron
VIP Table Bottle Pricing
1 Bottle -$250* (Comes with 4 tickets and table/area good for 4 people)
1 Bottle,1 champagne-$400* (Comes with 6 tickets and table/area good for 6 people)
1 Bottle,1 champagne VIP seating-$500* (Comes with 6 tickets and table/area good for 6 people)
1 champagne-$100*(No ticket or table)
21+|6:00pm-2:00am
One re-entry permitted (to see the FIREWORK show!)
*gratuity not included
Black Tie Dress Recommended.
Parking is via parking garage at 3rd and 4th Street or along Long Beach Boulevard. The Long Beach Transit is offering free rides up to 4:00 am within the city.
Wokcano – Long Beach
199 The Promenade N
Long Beach, CA 90802
Wokcano Long Beach 562-951-9652
http://www.wokcanorestaurant.com/locations/long-beach/
Map to the venue
https://www.google.com/maps/place/245+The+Promenade+N,+Long+Beach,+CA+90802/@33.7692555,-118.1934988,17z/data=!4m15!1m12!4m11!1m6!1m2!1s0x80dd313974a85fa9:0xe4ea6006c4cfc677!2sWokcano,+199+The+Promenade+North,+Long+Beach,+CA+90802!2m2!1d-118.191283!2d33.769105!1m3!2m2!1d-118.191224!2d33.7694082!3m1!1s0x80dd3139abcdc285:0xa7b2d868f245e669
If you want to check out what is all going down in Long Beach for New Years Eve
http://www.downtownlongbeach.org/Event-Detail-Page/Signature-Event-New-Years-Eve
http://www.downtownlongbeach.org/News-Detail/New-Years-Eve-in-Downtown-Long
http://www.downtownlongbeach.org/Event-Detail-Page/Harbor-Breezes-21-New-Years-Eve-Fireworks-Cruise?id=67859
1 Bottle, 1 Champagne
Good for twelve (6)
$500.00
VIP Seating
1 Bottle, 1 Champagne
Good for six (6)
$100
Champagne
DINNER for TWO
$100
Soup & Salad
Entrée Selection
Black Pepper Beef Mignon
Teriyaki Chicken
Honey Walnut Shrimp
Sushi Dinner
A glass of Champagne
Admission to the Club Event
Tax and 20% Gratuity not included
Last Updated on