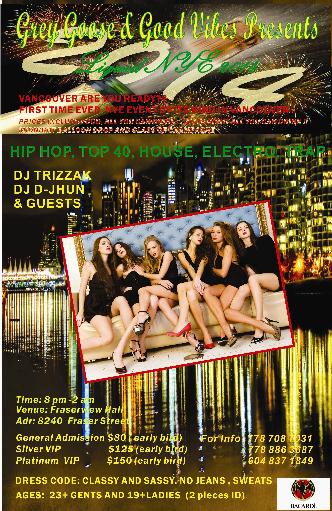 Venue:
When:
City:
Address:
Tue Dec 31 2013 800PM
VANCOUVER
8240, FRASER ST
- GENERAL ADMISSION: $100.00
- SILVER VIP: $175.00
- PLATINUM VIP: $200.00
Biggest and hottest party to ring in NYE 2014. First time ever OPEN BAR !!!! NYE.in Vancouver. You heard us
ALL YOU CAN DRINK!!!!!!!! One price gets you in the door. Why pay more for just door entry when you can have it all for one price.
Two rooms to party in with one room being the VIP area for ticket holders who purchase their Platinum VIP tickets, will get private dj, bar staff, premium booze and premium food. The other room will consist of silver vip and general admission with full bars and food. All tickets come with complimentary coat check. Also have a heated covered patio outside to get fresh air or to have a cigarette. Cigarettes are available onsite.
We have four amazing dj spinning your tunes all night long with a big balloon drop at midnight with a secret prize located in the balloon. We have GOGO dancers to spice up the dance floor and make it hot hot hot!!!!!!
Featuring:
DJ TRIZZAK
DJ D-JHUN &
SPECIAL GUESTS
SPINNING TOP 40, HOUSE, ELECTRO, HIP HOP, CLUB ANTHEMS AND TRAP ALL NIGHT LONG
General Admission $80 (early bird SOLD OUT )
All you can drink- bar liquor, jgger and tequila
Free coat check
Food included
Silver VIP $125 (early bird SOLD OUT)
Premium drinks JD, Crown, Grey Goose etc…
Free coat check
Food included
Shooter/Beer Stations
Platinum VIP $150 (early bird SOLD OUT )
Priority Access to venue
All you can drink champagne
Premium alcohol and vodka
Personal bar staff Personal dj and dance floor
Premium food and party favors
Dress code: Dress classy, sassy and sexy. No Jeans and T-shirt, athletic gear, runners etc…
Transportation available to Venue. Stops will be announced for pick up at a later date.
2 Pieces of Valid ID
Gents and Ladies 19+
ID's will be scanned
Last Updated on