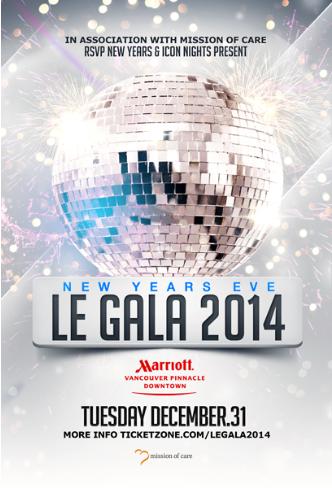 Venue:
When:
City:
Address:
Tue Dec 31 2013 730PM
Vancouver
1128 West Hastings Street
LE GALA 2014
RSVP New Years & Icon Nights present -On New Years Eve, newly renovated stylish Marriott Coal Harbour is the setting for LE GALA 2014 in support of MISSION OF CARE. You will be able to experience all of the wonderful aspects of New Years Eve in Vancouverdinner, live performances, the live count down, the champagne, the amazing vibeall while in the beautiful Coal Harbour.
Video from New Years 2013 ::: http://bit.ly/HB1aO1
Party Type:
*LAVISH DINNER by Executive Chef Frank Gort 9pm
*VIP sections
*DJ'S JIAL-14 and special guests r&b, hip-hop and top 40
*Midnight Balloon Drop
*Live Performances featuring:
- TONYE AGANABA performing R&B and Soul.
- DAVID MORIN performing Soul Dance and Hip-Hop.
- MYLES BIGELOW performing Latin, Soul, Jazz/Funk, HipHop and Electronica.
* Live Countdown
Age:
21 years old and older
Dress Code:
Chic and Sassy -Mandatory Gentleman Jacket or Suits.
Music:
DJ'S JIAL 14 & Guests spinning R&B, Top 40 & Old School
Ticket Information:
Includes: -NYE Family-Lavish Style "Share" menu:
Foccacia, flat bread, extra virgin olive oil, balsamic vinegar
Vitello Tonnato, Fennel and blood orange salad
Potato gnocchi, slow roasted tomato sauce
Roasted vegetables, fried brussel sprouts, lemon and parmesan
Red wine braised beef short ribs, roasted shrimp, garlic, chilies, gremolata, olives,
Tiramisu, chocolate pot de crme, pear fig tart
Group rates/ Table service
info@rsvpnewyears.com/ 778 891 4252
Doors 7:30pm , Dinner 8pm
What is the Mission of Care?
Experience the Joy of Giving. Mission of Care is a fundraising platform that enables every day people to raise money for their favourite cause or charity. For every NYE ticket sold $50 will donated to any charity of YOUR choice
Hotel Rates
Starting from $109
Click the link http://bit.ly/1b5Gzrq
Last Updated on