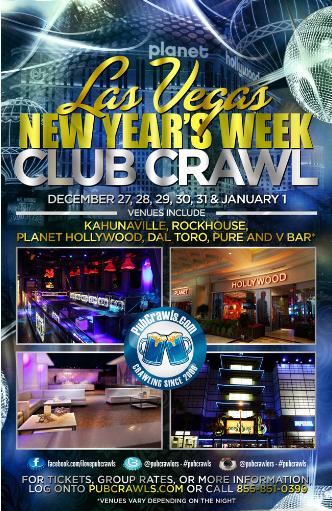 Venue:
When:
City:
Address:
Kahunaville, inside Treasure Island Resort & Casino
Fri Dec 27 2013 800PM
Las Vegas
3300 Las Vegas Blvd. South
6 DAY ALL ACCESS PASS: $149.00
The Official 2014 Las Vegas New Years Eve Club Crawl!
If you're visiting Las Vegas around New Year's time, chances are you're taking an extended vacation. Las Vegas isn't a destination for a mere 2 or 3 days. Vegas is the type of city that captivates you once you step your feet onto Las Vegas Blvd. And now that New Year's Eve is upon us, having an entire week to party in America's playground is an opportunity everyone should take advantage of. This year's annual Las Vegas New Year's Week club crawl features 6 nights of all access club hopping. Whether you're looking to purchase tickets for one night or for several, this party package will allow you to experience Vegas from every vantage point.
Some of the participating venues in the club crawl include PURE, Rockhouse, Planet Hollywood Restaurant, Dal Toro, and Kahunaville. The venues vary slightly depending on the night but the entertainment is sure to meet expectations. Get your friends together and party like a rock star! This package is very competitively priced. While some venues are charging over $400 per ticket and others are already sold out, this party package assures you guaranteed admission to several venues all for one price. Be sure, be safe, and be economical with the best Las Vegas Club Crawl of NYE 2014!
December 31 New Year's Eve Night - Register at Dal Toro in order to retrieve your all access pass and you're free to roam to any of the particiapting nightclubs, including Planet Hollywood Restaurant (inside Caesars forum shops), Dal Toro, Kahunaville and more coming soon!
Dec 27, 28, 29, 30 and Jan 1 :: Crawl Schedule is subject to change:
7PM – 9PM at Kahunaville
9PM – 10:30PM at Rockhouse/V Bar
10:30PM- 4AM at PURE/Chateau/Hakkasan/Other
Disclaimer: Venues are subject to change due to venue capacity. Crawlers that are deemed over-intoxicated may be denied access by the establishment. For free admission, crawlers must arrive at PURE nightclub by 11:15pm
Tickets and more information for the 2014 New Years Eve Las Vegas Club Crawl today!