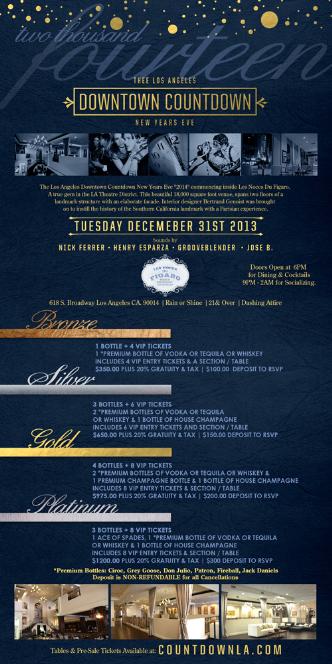 Venue:
When:
City:
Address:
General Admission: $30.00
Let's all celebrate life and ring in the new year in style. you and your closest friends are invited to celebrate your "2014″ New Years Eve @ The Los Angeles Downtown Countdown commencing inside Les Noces Du Figaro. A true gem in the Theatre District. This beautiful 18,000 square foot venue, spans two floors of a landmark structure with an elaborate facade. Interior designer Bertrand Genoist was brought on to instill the history with a Parisian experience.
- Top club circuit DJ's
- 2 rooms 2 sounds
- Numerous full service bars
- Beer & wine bar
- Complimentary party favors
- Dashing upscale attire
- Access to 2 levels
DJ's will play an open format mix of EDM, top 40 and hip hop. Sets by Nick Ferrer, Grooveblender, Henry Esparza and Jose B.
$100 ticket includes a set 3 course meal, glass of champagne and full access entry. Doors open at 6pm for dinner service.

Last Updated on