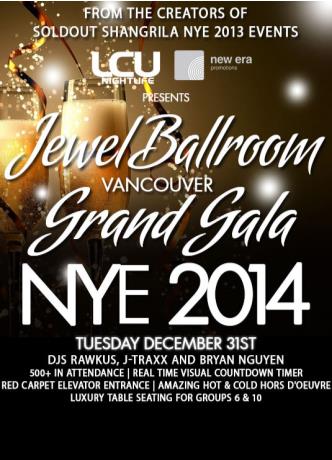 Venue:
When:
City:
Address:
Tue Dec 31 2013 800PM
Vancouver
1495 West 8th Avenue
GENERAL ADMISSION TIER 2 OF 2: $80.00
THE JEWEL BALLROOM NYE GRAND GALA 2014
Presented by LCU NIGHTLIFE
Tuesday, December 31st – New Years Eve
Doors open at 8PM and go till 2AM!
24 Men 21 Ladies
venue 2 pieces of ID required for entry

THANK YOU VANCOUVER FOR ANOTHER SELLOUT LAST YEAR!
(24 Gents 21 Ladies) – MADATORY FORMAL ATTIRE – AGE AND DRESS CODE STRICKLEY INFORCED
Access to the Top Floor Penthouse Grand Ballroom w/Dance floor Real time visual countdown timer Red carpet elevator entrance w/ Paparazzi Styled photos Amazing Hot and Cold H'odervesLuxury table seating for groups 6-10 people Tables include VIP Admission, Personal Food Platter & Bottle of Champagne. Vancouvers Best DJs !
Music Selections will consist of House, Dance, Top 40, R&B, 90s & Party Anthems, Old School. Something for everyones musical tastes.
Last Updated on