JET NIGHT CLUB – NEW YEARS EVE
Jet Nightclub in Montreal, Canada is hosting one of the top NYE 2015 parties this year. Be sure tho check out their even detail here and buy your tickets soon as prices will go up and tickets will sell out soon!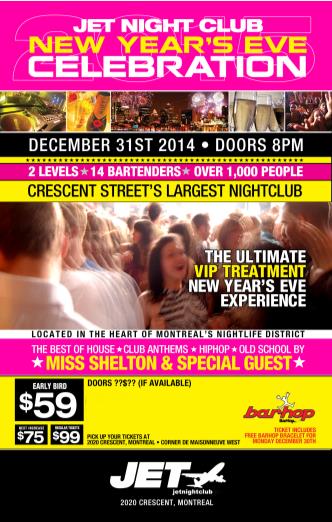 Venue:
When:
City:
Address:
AFTER 1AM TICKET – NOT VALID FROM 8PM-1AM: $35.00
EARLY BIRD + LINE BY PASS TICKET: $74.00
EARLY BIRD TICKET: $59.00
GOLD PACKAGE FOR 10 PEOPLE: $1200.00
PLATINUM PACKAGE FOR 14 PEOPLE: $2450.00
SILVER PACKAGE: $750.00
EVENT:
JET NIGHT CLUB NEW YEARS EVE 2015 CELEBRATION
DATE: 
Wednesday December 31st 2014
TIME:
Doors Open From 8pm To 3am
YOUR TICKET INCLUDES:
- 7 Hours Of Unstoppable Party Vibe!
- Bottomless, Full VIP Treatment At The Bar (Tips Not Included)
- Multi Level Complex
- Fully Decorated Venue
- Party Favors For Everyone
- Huge Dance Floor
- Over 1,000 People
- Live Countdown On Giant Screens From Time Square
- Enormous Balloon Drop
- Gift Package With Every Ticket Bought: Free Mixed CDs Of The Best Club Tracks Of 2014 + Free BarHop Voucher For Tuesday December 30th 2014 + Free Voucher To RECOVERY 2015 Party Happening On Thursday January 1st 2015 Featuring A Full VIP Treatment At The Bar For Ladies!
MUSIC:
- DJ Miss Shelton And Special Guest DJs Playing The Best Of The Best
- Club Anthems, House, Top 40 & Hip Hop
TABLE SERVICE & VIP SECTIONS:
Very Limited (Reserve Your Private Area Now)
SILVER RESERVATION (For 6 Guests): $750
GOLD RESERVATION (For 10 Guests): $1200
PLATINUM RESERVATION (For 14 Guests): $2450
VENUE:
JET NIGHT CLUB
ADDRESS:
2020 Crescent, Montreal, Canada
LOCATION:
In The Heart Of Montreal's Entertainment District..
Last Updated on