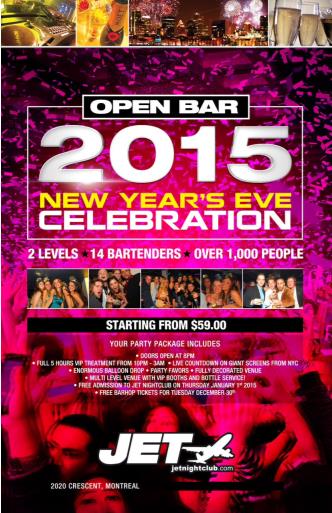 AFTER 1AM OPEN BAR – TICKET – NOT VALID FROM 8PM-1AM: $35.00
UNBEATABLE VALUE: $60.00
UNBEATABLE VALUE WITH LINE BYPASS: $75.00
EVENT:
JET NIGHT CLUB NEW YEARS EVE 2015 CELEBRATION
DATE:
Wednesday December 31st 2014
TIME:
Doors Open From 8pm To 3am
YOUR TICKET INCLUDES:
- 7 Hours Of Unstoppable Party Vibe!
- Bottomless, Full VIP Treatment At The Bar (Tips Not Included)
- Multi Level Complex
- Fully Decorated Venue
- Party Favors For Everyone
- Huge Dance Floor
- Over 1,000 People
- Live Countdown On Giant Screens From Time Square
- Enormous Balloon Drop
- Gift Package With Every Ticket Bought: Free Mixed CDs Of The Best Club Tracks Of 2014 + Free BarHop Voucher For Tuesday December 30th 2014 + Free Voucher To RECOVERY 2015 Party Happening On Thursday January 1st 2015 Featuring A Full VIP Treatment At The Bar For Ladies!
MUSIC:
- DJ Hill And Special Guest DJs Playing The Best Of The Best
- Club Anthems, House, Top 40 & Hip Hop
TABLE SERVICE & VIP SECTIONS:
Very Limited (Reserve Your Private Area Now)
SILVER RESERVATION (For 6 Guests): $750
GOLD RESERVATION (For 10 Guests): $1200
PLATINUM RESERVATION (For 14 Guests): $2450
VENUE:
JET NIGHT CLUB
ADDRESS:
2020 Crescent, Montreal, Canada
LOCATION:
In The Heart Of Montreal's Entertainment District..
Last Updated on