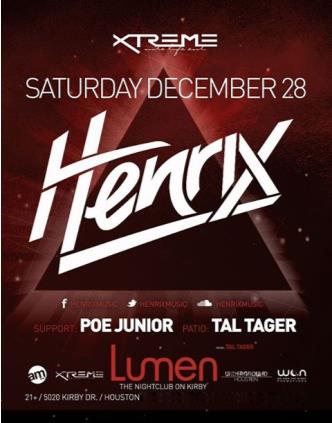 Venue:
When:
City:
Address:
Sat Dec 28 2013 1000PM
Houston
5020 Kirby Dr
General Admission: $10.00
Xtreme Nitelife and XMS Events Present…
LUMEN SATURDAYS feat. HENRIX
Saturday December 28, 2013
Doors Open 10pm-2am
Upscale ~ Sexy & Sophisticated a Must!

Local Support:
Poe Junior
Tal Tager in the patio
HENRIX SOCIAL MEDIA:
https://www.facebook.com/HenrixMusic
https://twitter.com/HenrixMusic
https://soundcloud.com/henrixmusic
HENRIX BIOGRAPHY:
Seemingly coming out of nowhere, Miami-based Henrix capped off 2012 with two tracks in the A.D.E.
Buzz Charts and managed to start off 2013 as being named one of the 2013 Artists to Watch by both Dancing Astronaut and The Beat Mill. With his unique style of production that embodies percussive drops and massive melodic breaks; Henrix has managed to establish himself as the quintessential 'Sound of Miami' and he shows no signs of slowing down this year as he takes that Miami sound to BIG releases on SIZE RECORDS, Mixmash, Universal Republic, and more.
Hosted by:
George Salas, Navid, Donovan, John Floyd, Erik Hoffman & David Fiscu.
Door Host:
Steve Shreds
Doors Open 10pm-2am
21+ Dress to Impress Chic Attire a Must
**We Reserve the Right to Refuse Entry**
5020 Kirby Dr Houston, TX 77098
Last Updated on