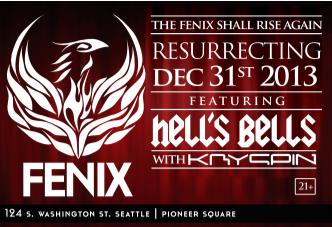 Venue:
When:
City:
Address:
Tue Dec 31 2013 700PM
Seattle
124 S Washington St
PreFunk (must arrive by 9PM): $20.00
Limited General Admission: $25.00
General Admission: $40.00
VIP: $60.00
Come ring in the New Year and celebrate the final night of Last Supper Club and the Grand Opening of The Fenix!
Featuring the world famous all female AC/DC tribute band:
HELL'S BELLES
www.hellsbelles.info/HB/#/bio/
https://www.facebook.com/pages/Hells-Belles/150101406739
HELLS BELLES are first and foremost dedicated AC/DC fanatics. Endorsed by Angus Young himself (Blender Magazine, 2003), HELLS BELLES are the closest one can get without actually moving to Australia and joining AC/DCs road crew.
HELLS BELLES are indeed ALL female, all the way to their rock-n-roll cores, all the time and without exception. Representing for a whole new generation of women that wont be intimidated, HELLS BELLES actively encourage our legions of lady fans to stand up and be counted, and collaborate with women musicians and causes as a part of the mission towards rock and roll inclusion. Not some down-your-throat feminism, but a proactive support and action spirit towards the continued march towards balancing of the gender scales.
amazing performances by:
FIRE & FANTASY
Seattle Aerial Arts and CYRCUS.org bring you a breathtaking show with fire performances, aerial arts, dancing and more.
http://cyrcus.org/
and featuring Dance Music sets by:
DJ KRYSPIN
www.facebook.com/kryspinmusic
www.soundcloud.com/kryspin
DJ LIGHTRAY
https://www.facebook.com/LightrayDJ
http://www.mixcloud.com/DJ_Lightray/
Ticket options:
PreFunk (must arrive by 9 PM)
Side door entrance, includes light appetizers
GA: guarantees admission
VIP: includes VIP Mezzanine access, Fire and Fantasy pre-show, Champagne Toast, hors d'oeuvres, private bar and party favors
21+ w/ id required
Last Supper Club / The Fenix
Located at the corner of Washington and Occidential in the heart of Seattle's Historical Pioneer Square
124 South Washington Street
Seattle, Wa 98104
Last Updated on