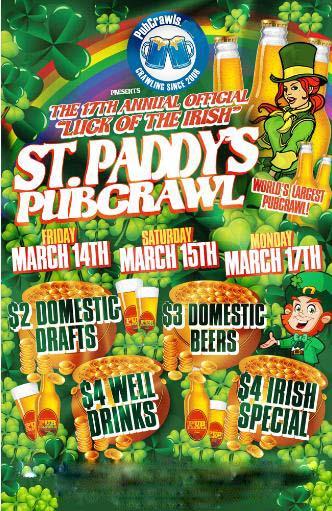 Venue:
When:
City:
Address:
3 DAY ALL ACCESS PASS WASHINGTON DC: $10.00
Registration at The Front Page 5pm – 12am]: $5.00
This coming St. Patrick's Day, we've got the event you've been waiting all year for! On Friday, March 14th, the biggest pub crawl company in the country, PubCrawls.com, presents the Happy Hour St. Patrick's Day PubCrawl. With a variety of the best bars in the Dupont Circle area offering awesome drink specials, and all within walking distance, you and your friends can cruise from pub to pub indulging in the best deals while letting your inner Irish out.
Registration for this epic night will begin at the Front Page on New Hampshire Avenue, just a stone's throw from Dupont Circle, and equally as close to the other bars on the crawl. Once you've registered you'll be able to roam freely between spots mapped out for the night. You and your friends will get to enjoy the best drink prices in town while reveling with others who, even if they're not Irish, certainly will be for the night! So come join PubCrawls.com for our Happy Hour St. Patrick's Day PubCrawlyou'll never have a better time!
3 DAY ALL ACCESS PASS WASHINGTON DC
General Admission access for 1 to the PubCrawls.com St Paddy's PubCrawl on all 3 days.
Access to ALL participating venues.
REGISTRATION VENUE: The Front Page
ADDRESS: 1333 New Hampshire Ave
REGISTRATION TIMES:
Fri 03/14 [5pm 12am]
Mon 03/17 [5pm- 12am]
Registration at The Front Page [5pm - 12am]
General Admission access for 1 to the PubCrawls.com Happy Hour St Patrick's Day PubCrawl on Friday 03/14.
Access to all participating venues
REGISTRATION VENUE: The Front Page
ADDRESS: 1333 New Hampshire Ave
REGISTRATION TIMES: Friday 03/14 [5pm - 12am]
Last Updated on