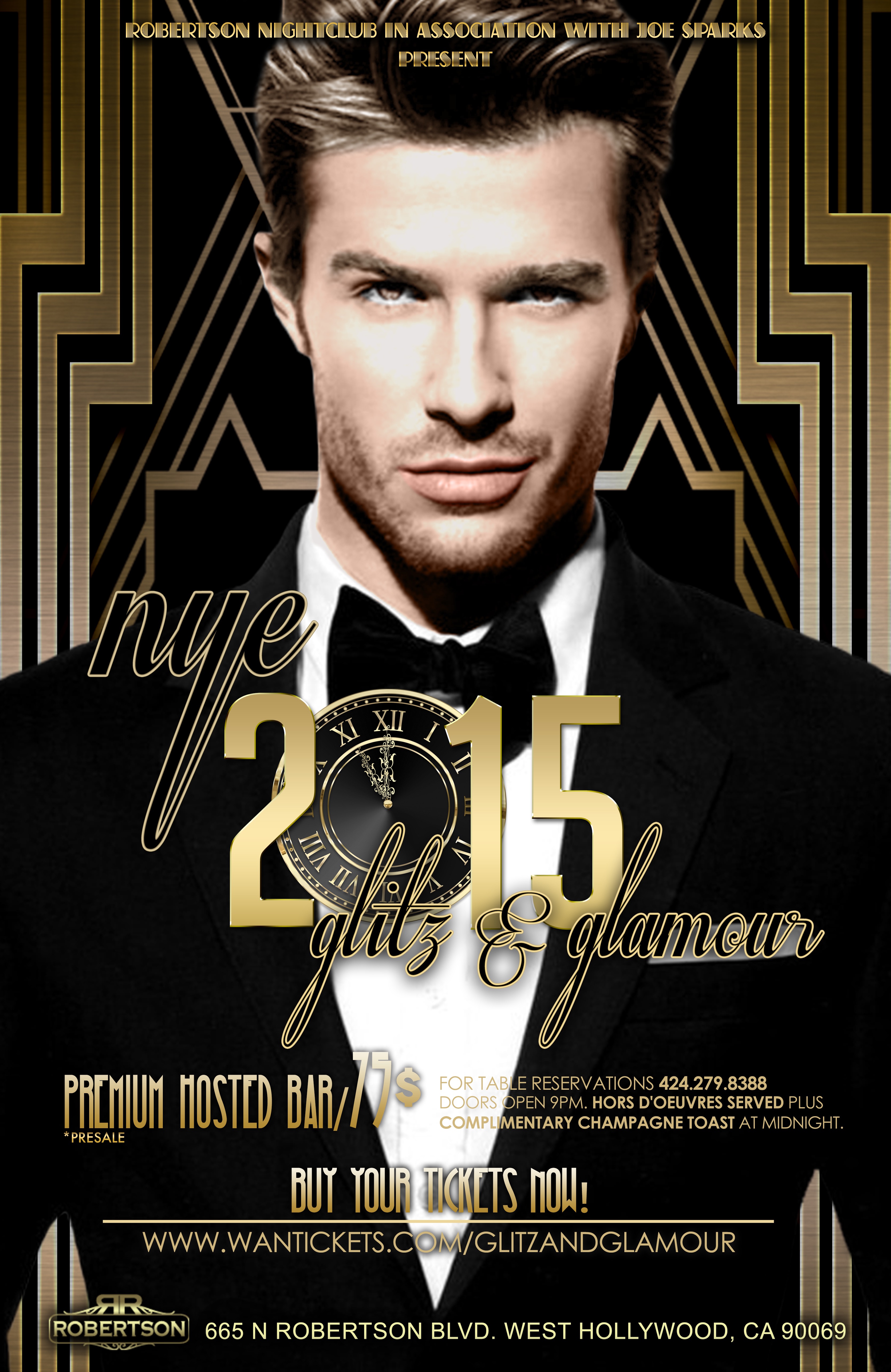 EARLY BIRD VIP TICKET SALE (Offer ends 12/8/14): $10.00
$15 VIP FAST PASS ENTRY – No Waiting!: $15.00
The Marilyn Monroe Package — Ten VIP Fast Passes Included!!!: $500.00
The Marlon Brando Package — Ten VIP Fast Passes Included!!!: $750.00
The Elizabeth Taylor – 15 VIP FAST PASSES INCLUDED!!!: $1000.00
VIP FAST PASS ENTRY WITH HOSTED (ALL NIGHT) *PREMIUM* BAR!!!: $75.00
THE OFFICIAL AFTER HOURS AT PENTHOUSE NIGHTCLUB!!!: $20.00
$20 VIP FAST PASS EXPRESS ENTRY! NO WAITING!!!: $20.00
Robertson Nightclub in association with Joe Sparks cordially invite you to…
Glitz & Glamour NYE 2015!
One of the most prestigious venues in West Hollywood will be hosting a glamorous event never before produced! This party will be so massive, so diverse and so eclectic, were using all available floors possible to cater to every single attendee!
Hosting this extravagant event weve retained all of your favorite High-Rise Hotties and Rasputin hosts like Rhea Litré, Melissa Befierce, Jeffrey Hawkins, Asia VItale and Barbies Addiction.
Providing the sickest beats, we have DJ Derek Monteiro on the main floor and DJ KrazieK in the lounge.
PLUS..
We have amenities not found elsewhere…
- Hors doeuvres from 9-11;
- A premium hosted bar option for just $75;
- Bottle service packages that include up to 15 express VIP passes!
Purchase all of your VIP express entry tickets today to avoid the long general admission line and qualify for immediate entrance to the glitz and glamour of West Hollywood and start your 2015 celebration with a BANG!
Last Updated on