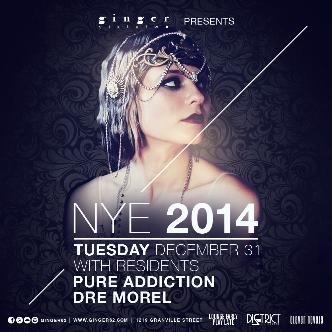 Venue:
When:
City:
Address:
Tue Dec 31 2013 800PM
Vancouver
1219 Granville Street
Advance Tickets – Tier 2: $40.00
Advance Tickets – Tier 3: $55.00
Advance Tickets – Tier 4: $75.00
GROUP Package of 5 (Get 1 Free): $220.00
** Update: ALMOST SOLD OUT! FINAL 50 TICKETS! **
NYE2014
Do you come to these parties often?
A tap of the shoe. A swirl of the dress.
Ladies and infamous gentlemen, we present an evening in the truest sense.
Harkening back to the days of roaring good times and notorious memories,
New Years Eve 2014, cant be here soon enough.
Swinging it early with live music and finding the furniture dancing good times later,
We be poppin a few bottles, swiggin a few cocktails, bursting a few balloons all night long…
Racy adventures provided by gingers renowned local residents, DJs Dre Morel and
Pure Addiction and brought to you in part by ElevenEleven Events, ahhhh, its a time to party.
Sorry Old Sport, this just happens but once a year.
gingers resident DJs
Live music (TBA)
Midnight balloon celebration
NYE party favours
A sparkling good cocktail
Bites of hors doeuvres early.
Last Updated on