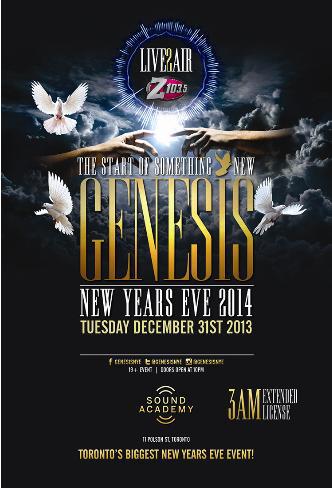 Venue:
When:
City:
Address:
Tue Dec 31 2013 1000PM
Toronto
11 Polson Street
Regular: $40.00
LIVE TO AIR ONZ103.5!!!
GENESIS NEW YEARS EVE2014
BROUGHT TO YOU BYZ103.5
TUESDAY, DECEMBER 31ST,2013 INSIDE THE SOUND ACADEMY
THE START OFSOMETHING NEW
TORONTOS BIGGEST NEWYEARS EVE EVENT!
3AM EXTENDED LICENCE
DOORS OPEN AT 10:00PM
$20 TICKETS!
GO TO WWW.GENESISNEWYEARSEVE.COMTO PURCHASE YOUR TICKETS NOW!!
JOIN TORONTO'S TOP PARTY ORGANIZER'S THAT HAVE BROUGHT YOU EVENTSINCLUDING DIABLO HALLOWEEN BALL, EUROFEST, AND MANY MORE AS WE COME TOGETHER TOBRING YOU GENESIS NEW YEARS EVE 2014, TORONTO'S BIGGEST NEW YEARS EVE EVENTINSIDE THE SOUND ACADEMY! WITH OVER 3,000 PEOPLE EXPECTED ALONG WITH A LINEUPOF TOP TIER TALENT AND PRODUCTION, THIS IS ONE NEW YEARS PARTY YOU DO NOT WANTTO MISS!
AS WE SAY GOODBYE TO 2013 AND SAY HELLO TO 2014, THERE IS NO OTHER PLACEYOU WANT TO BE OTHER THAN THE SOUND ACADEMY FOR GENESIS NEW YEARS EVE 2014.THIS COLOSSAL VENUE BOASTS VARIOUS ROOMS AND INTIMATE VIP SECTIONS INCLUDING APLUSH OUTDOOR PATIO OVERLOOKING THE BEAUTIFUL LAKE ONTARIO BACKDROP.
MAKE YOUR NEW YEARS EVE A NIGHT TO REMEMBER AT THIS STATE OF THE ARTENTERTAINMENT COMPLEX.
Z103.5 WILL BE ON SITE WITH COUNTLESS GIVE-AWAYS AND PARTY FAVOURINCLUDING A LIVE TO AIR SEGMENT AND MASSIVE MIDNIGHT COUNTDOWN.
MUSIC: EDM, TOP 40, HIP HOP, HOUSE, MASH UPS
LIMO DEALS: EXCLUSIVE DEALS ONLY FOR GENESISNEW YEARS EVE 2014 $200 BUSES!!!!
- 10 PASSENGER LIMO $20 PER PERSON
- 14 PASSENGER SUV LIMO $22 PER PERSON
- 20 PASSENGER HUMMER $20 PER PERSON
- 25 PASSENGER LIMOBUS $20 PER PERSON
- 40 PASSENGER LIMOBUS $15 PER PERSON
- 47 PASSENGER PARTY BUS $4.25 PER PERSON
- ***47 PASS PARTY BUS $200.00***
**CALL 416 2620897 FOR TICKETS | BOTTLE SERVICE | LIMOS/BUSES**
19+ VALID ID REQUIRED
WWW.GENESISNEWYEARSEVE.COM
FACEBOOK: FACEBOOK.COM/GENESISNYE
INSTAGRAM: INSTAGRAM.COM/GENESISNYE
YOUTUBE: YOUTUBE.COM/GENESISNYE
TWITTER: TWITTER.COM/GENESISNYE
SOUND ACADEMY 11 POLSON ST. TORONTO ON
Last Updated on