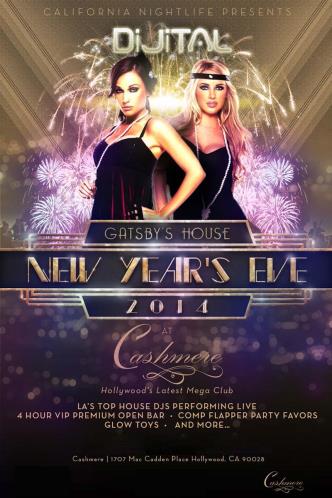 Venue:
When:
City:
Address:
Tue Dec 31 2013 900PM
Hollywood
1707 Mac Cadden Place
Movers- T2: $35.00
Movers – T3: $60.00
Shakers VIP Open Bar – T2: $95.00
Carraway Package: $485.00
You're A Daisy: $875.00
Gatsby's VIP Section: $2500.00
Movers – Group of 5: $150.00
VIP Oldsport Group of 5: $425.00
Couples Ticket: $60.00
Gatsby's House
New Years Eve 2014
at Cashmere Nightclub
Hollywood's Latest Mega Club!
w/ DiJiTal and DJ Shanto
There is no other place on earth to celebrate New Year's Eve than Gatsby's House. This party is only for the movers & shakers who can dance to World Class House music until 3am. Here are the highlights:
- LAs Top House DJs Performing Live
- 4 Hour VIP Premium Open Bar, Featuring Grey Goose
- Comp Flapper Party Favors
- Glow Toys
- And more
Purchase Tickets, Group Rates, and Bottle Service at:
CaliforniaNightlife.com & Ticketvibe.com
Or Call: 323.604.6030
Dress: Flapper Roaring 20s theme encouraged, but not required.
Cashmere Address | 1707 McCadden Place Hollywood, CA 90028
Last Updated on