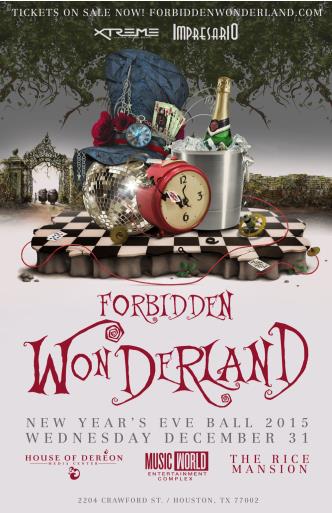 MUSIC WORLD ENT. COMPLEX
HOUSTON
2204 Crawford Street
After Hours General Admission: $20.00
Early Bird All-Inclusive Full-Access VIP: $160.00
Early Bird General Admission: $60.00
Xtreme Nitelife & Impresario Present:
Forbidden Wonderland NYE Ball 2015
Wednesday, December 31st, 2014
House of Dereon, Music World Ent. Complex, Rice Mansion
Doors Open 8pm-2am
Official After Party: 5th Amendment
Journey with us where time stands still and speeds up, where before is only after and the senses make all but any. Enchantment is at every turn in any of our four themed areas. Where everything is all but Forbidden. This is Forbidden Wonderland.
Witness a transformation of the Music World Entertainment Complex, located in the corner of Houstons Midtown, that is sure to change the way you bring in the new year for the years to come. Complete with side attractions, entertainers fitting the event motif as an array of various characters, music provided by this citys top DJs, innovative production, beverages, food, and decor! This New Year's Eve leave your usual routine and start the party in Wonder! Lets learn more about these areas:
The White Palace at the House of Dereon - Influenced by the Lair of the White Queen, this snow like area in the House of Dereon features an ice like domain with entertainers and music by David Cruz.
The Red Queens Garden - Dance in the Garden to the sounds of DJ's Alex Clavijo, Bobby Blyss, and Tony Santana playing the world's top Techno, Deep, and completely underground dance music in the garden of the Red Queen.
Madhatters Tea Party in the Rice Mansion - This VIP only area is located at the 3 story Rice Mansion and will be sheer MADNESS! Complete with complimentary drinks, hors d'oeuvres, private areas, and more. Music by Rage for the Machine, Sync Apex, and DJ Playboy
Cheshires Ball on the Tented Block - Go insane at Cheshire's Ball held under the big top with innovative production, mystic entertainers, and leading us into the new year with mind blowing music by DJ Red.
Event Highlights:
~ 4 THEMED AREAS TO PARTY ~
~ MIDNIGHT COUNTDOWN ~
~ BALLOON DROP AT MIDNIGHT ~
~ PARTY FAVORS ~
~ LASER LIGHT SHOW ~
~ EXCLUSIVE VIP AVAILABLE ~
~ RED CARPET ENTRANCE ~
~ THEMED DANCERS ~
~ LIVE ENTERTAINMENT ~
~ VALET PARKING AVAILABLE ~

8 DJs:
The White Palace: DJ Red & AB
The Red Queens Garden: Alex C, Bobby Blyss & Tony Santana
Madhatters Tea Party: DJ Playboy & Sync Apex
Cheshires Ball: David Cruz
For All-Inclusive Full Access VIP & GA Packages Call: (832) 910-9637

Forbidden Wonderland Social Media:
www.forbiddenwonderland.com
www.facebook.com/forbiddenwonderland
www.twitter.com/forbiddennye
www.instagram.com/forbiddennye
www.flickr.com/photos/forbiddenwonderland/
www.youtube.com/user/forbiddenwonderland/
Connect with Xtreme Nitelife:
www.Fb.com/XtremeHouston
www.twitter.com/XtremeNitelife
www.Instagram.com/xtremenitelife
www.XtremeNitelife.com/
www.YouTube.com/XtremeNitelife
21+ Dress to impress Attire
Music World Entertainment Complex | House of Dereon | The Rice Mansion
2204 Crawford Street
Houston, TX 77002
Last Updated on