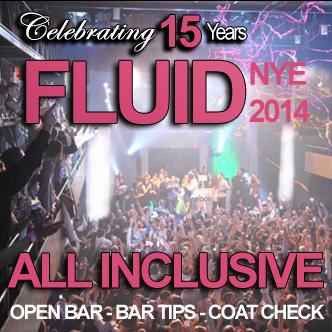 Venue:
When:
City:
Address:
Tue Dec 31 2013 900PM
Montreal
1225 Saint-Laurent
Platinum VIP: $199.99
Regular – Open Bar + 1st Floor Access: $89.99
VIP – Open Bar + 1st & 2nd Floor Access: $119.99
BAR HOP – DECEMBER 30 2013: $25.00
Late Nite Snack – 12AM – 3AM Open Bar: $50.00
THE ORIGINAL ALL-INCLUSIVE NYE PARTY SINCE 1999…..Is celebrating our 15 YEAR Anniversary!FLUID NEW YEARS is Montreal's Original All-Inclusive Open Bar Celebration. FLUID NYE has built its reputation by offering more than 14,000 thousand party-goers the ultimate entertainment experience on the biggest party night of the year. Only at FLUID can you truly get it all: Admission, coat check, ALL NIGHT OPEN BAR and not too mention, ALL bar tips are included all night long. FLUID 20FOURTEEN: December 31, 2013 @ Club Soda (1225 Boul St Laurent)9pm – 3amOpen bar: All drinks included from 9PM-3AM with tips included.Coat Check: IncludedMusic: Hip Hop, House, Old Skool and Club AnthemsDJ lineup: Special Guests: TB1 & David A (MTL) & DJ Roger Pilon (FRA) Bars: 10 minimum for easy accessBartenders: 20 staff minimum so no waitingBar menu: Vodka, Rum, Gin, Tequila, Jaeger, Whiskey, Beer, Wine, Energy Drinksand more! Tipping: Tips are included at all barsCapacity: 1000 peopleRegular Ticket: Open Bar + free coat check + bar tips + access to 1st floorVIP Ticket: Regular Ticket + Access to 2nd Floor VIP area + more bars + champagne at Midnight + seating + access to balconiesPlatinum VIP: VIP + Priority entry + access to private lounge + Bottle Service ALL night + Premium Alcohol + Champagne All Night + King of the club18years +New Years in Montreal is the biggest party night of the year so we provide guests with easy access to the venue, free coat check and a complete all-inclusive evening. Only at FLUID New Years. Leave your wallet at home this New Years Eve,Drink FLUID, Get LOADED!
Last Updated on