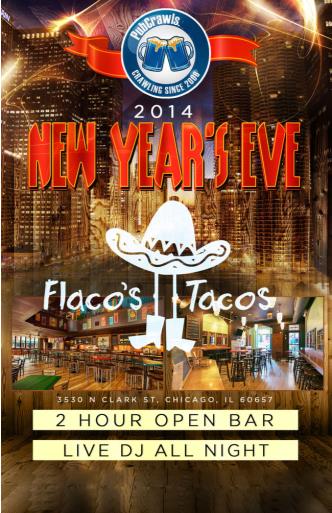 Venue:
When:
City:
Address:
Tue Dec 31 2013 800PM
Chicago
3530 N Clark St
General Admission: $24.99
If you're from the area, then you know all about Flaco's Tacos and the type of party atmosphere it provides. Located in the heart of Wrigleyville, 3530 N Clark St, Flaco's Tacos offers a beautiful dcor that encompasses a friendly and festive party atmosphere. You don't have to spend your entire holiday bonus on a few presents and a party. Flaco's Tacos will ensure that you enjoy your New Year's Eve party at a very affordable price. The New Year is a holiday where we reminisce about the old and welcome in the new. Flaco's Tacos is the perfect venue for this year's December 31 celebration.
Featuring 2 hours of open bar, which starts at 10:30pm, Flaco's Tacos New Year's Eve event is one of the most sought after NYE events in Chicago. All patrons will receive a complimentary champagne toast midnight. Gather around your friends and family while sipping champagne and counting down the final seconds of 2013. Flaco's Tacos New Year's Eve celebration will surely create memories that'll last through the entire upcoming year.
Last Updated on